Transparency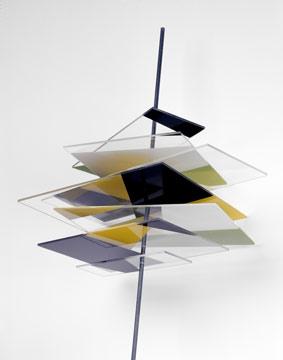 Hirst, Tillmans and Shonibare feature in a new exhibition at the Walker
A new exhibition at Liverpool's Walker Art Gallery will ask whether art can help us to see things differently. Transparency, an Arts Council Collection National Partners exhibition, runs from 24 March to 18 June 2017 and showcases work by artists including Damien Hirst, Wolfgang Tillmans, Christine Borland and Yinka Shonibare MBE.
More than 40 artworks feature, including sculpture, painting, photography and video. The exhibition draws largely on works from the Arts Council Collection, with additions from the Walker Art Gallery's own fine and decorative art collections.
Transparency looks at how artists have used transparent materials, forms and ideas about transparency to explore how we experience the world. From Christine Borland's Sim Bodies to Toby Patterson's Rotterdam Relief, the exhibition considers how using see-through materials such as glass and clear Perspex within artworks can affect the way we see things.
Ann Bukantas, Head of Fine Art at National Museums Liverpool, said:
"Taking the theme of transparency as its starting point, this exhibition brings together artworks from across a wide range of mediums, by a dynamic cross section of artists.

"Works by some of the most well-known artists working in Britain today feature, alongside pieces by rising stars such as Emily Speed. She is a Cheshire-based artist whose work looks at the body and its relationship with architecture. We are excited to be showing her installation Build-Up, which was recently acquired by the Arts Council Collection."
Using works by Ruth Claxton, Hannah Starkey and Mary Martin, the exhibition also considers how mirrored surfaces can create an illusion of transparency, while at the same time concealing what lies behind them.
Transparency suggests that the inspiration for encounters with transparent materials can be found both in domestic settings and outdoors, where transparent materials can convey the extraordinary visual qualities of the natural environment.
Dan Holdsworth's Blackout 21 shows the Sólheimajökull glacier in Iceland. This photographic print reverses light and dark to reveal an array of different tones in the dynamic landscape. Meanwhile, Damien Hirst's Untitled (from London Portfolio) heightens the glittering appearance of semi-precious stones by photographing them against a matt pink background.
Marcus Taylor's ghostly sculpture Upright Fridge and Victor Newsome's painting Corner of a Bathroom both present playful examinations of domestic objects and architectural space. These artworks test the boundaries between objects and images, and between what is art and what is not. They reaffirm art's ability to help us find the extraordinary in the everyday.
The exhibition is accompanied by a resource area, in which visitors are encouraged to respond to the exhibition and to explore and share their ideas about transparency in art. There will also be a free programme of artist talks, exhibition tours and hands-on family workshops. For details, visit www.liverpoolmuseums.org.uk/transparency
Transparency is an Arts Council Collection National Partners exhibition. It was originally conceived by Yorkshire Sculpture Park with the Arts Council Collection and was displayed at Yorkshire Sculpture Park in 2016. It has been adapted and expanded for exhibition at the Walker Art Gallery, and features additional artworks and resources.
The Walker Art Gallery is an Arts Council Collection National Partner. The Arts Council Collection is managed by Southbank Centre, London on behalf of Arts Council England.
www.liverpoolmuseums.org.uk/walkeracc
Free entry
Open daily 10am-5pm
Walker Art Gallery
William Brown Street, Liverpool, L3 8EL
Telephone 0151 478 4199
www.liverpoolmuseums.org.uk/walker
Twitter: www.twitter.com/walkergallery
Facebook: www.facebook.com/walkerartgallery
Instagram: www.instagram.com/walkerartgallery
#WalkerACC
#ACCNationalPartners
#artscouncilcollection
Notes to Editors
About the Walker Art Gallery
The Walker Art Gallery houses an internationally-renowned collection of paintings, sculpture and decorative art. It is one of Europe's finest galleries, with a collection that ranges from outstanding modern and contemporary works to Medieval and Renaissance masterpieces. Some of the greatest British artists of the last century are represented in the contemporary galleries, from Lucian Freud to David Hockney, while the Gallery's Impressionist collection is not to be missed. Visitors can also see paintings by 17th and 18th century masters including Poussin, Rembrandt and Gainsborough, before taking in the Walker's famed Pre-Raphaelite collection. Younger visitors will love Big Art for Little Artists, a gallery designed to introduce children to art in a fun and interactive way. The Walker Art Gallery is an Arts Council Collection National Partner. Between April 2016 and March 2019, the Gallery will curate and host an exciting and innovative series of contemporary art exhibitions, drawn from the Arts Council Collection.
www.liverpoolmuseums.org.uk/walker
About National Museums Liverpool
National Museums Liverpool comprises eight venues, including some of the most visited museums in England outside of London. Our collections are among the most important and varied in Europe and contain everything from Impressionist paintings and rare beetles to a lifejacket from the Titanic. We attract around 3 million visitors every year. Our venues are the Museum of Liverpool, World Museum, the Walker Art Gallery, Merseyside Maritime Museum, International Slavery Museum, Border Force National Museum, Sudley House and the Lady Lever Art Gallery.
www.liverpoolmuseums.org.uk
About Arts Council Collection
The Arts Council Collection is a national loan collection of British art from 1946 to the present day. With nearly 8,000 works and more than 1,000 loans made to over 100 venues a year, it is seen by millions of people in public spaces from galleries and museums to hospitals, libraries and universities. Representing one of the most important collections of British modern and contemporary art in the world, it includes work from Francis Bacon, Barbara Hepworth and Henry Moore to Lucian Freud, Antony Gormley and Grayson Perry. The Collection supports and promotes British artists by acquiring art at an early stage of their careers. The Arts Council Collection is managed by Southbank Centre, London and includes the Sculpture Centre located at Longside, Yorkshire Sculpture Park.
www.artscouncilcollection.org.uk
About National Partners Programme
To mark the Arts Council Collection's 70th anniversary, Arts Council England invested in a network of four National Partner museums and galleries across England, Towner Art Gallery, Eastbourne, Birmingham Museums Trust, The Walker Art Gallery, National Museums Liverpool and the Collection's existing partner, Yorkshire Sculpture Park. The partners will provide a year-round home for art works within the Collection, hosting a special programme of at least 24 National Partner exhibitions between April 2016 and Spring 2019.
About Arts Council England
Arts Council England champions, develops and invests in artistic and cultural experiences that enrich people's lives. We support a range of activities across the arts, museums and libraries – from theatre to digital art, reading to dance, music to literature, and crafts to collections.
www.artscouncil.org.uk
About Southbank Centre
The Arts Council Collection is managed by Southbank Centre, London on behalf of Arts Council England. Southbank Centre is the UK's largest arts centre, occupying a 21-acre site that sits in the midst of London's most vibrant cultural quarter on the South Bank of the Thames. The site has an extraordinary creative and architectural history stretching back to the 1951 Festival of Britain. Southbank Centre is home to the Royal Festival Hall, Queen Elizabeth Hall, Purcell Room and the Hayward Gallery as well as The Poetry Library and the Arts Council Collection. The Arts Council Collection is managed by Southbank Centre, London on behalf of Arts Council England.
www.southbankcentre.co.uk