UK's BIGGEST PAINTING PRIZE 2014 LONGLIST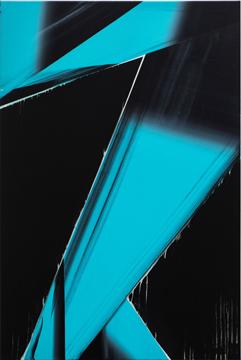 John Moores exhibitors announced
Once again the Walker Art Gallery brings a fascinating array of approaches to one of art's most traditional mediums when the John Moores Painting Prize opens from 5 July to 30 November, as part of the Liverpool Biennial.
The endurance of paint to both enable and inspire artists to create radical, beautiful and challenging work presides over the exhibition. The mix is eclectic, with landscapes, portraits, abstract and sculptural works united only by their manipulation of paint.
52 artists have been selected from more than 2,500 entrants. The shortlist of prize winners, will be announced at the opening of the exhibition on 5 July 2014, with the ultimate first prize, sponsored by David M. Robinson, to be awarded in September 2014.
Sandra Penketh, Director of Art Galleries said: "This year's John Moores Painting Prize has attracted some very accomplished artists whose work we are thrilled to have on display at the Walker. The judges have selected a show which highlights some of the very best of contemporary painting and gives a strong sense of current trends and themes alive today in the studios and art schools up and down the country."
The 2014 judges are Tim Marlow, Director of Artistic Programmes at the Royal Academy and artists Lynette Yiadom-Boakye, Zeng Fanzhi, Chantal Joffe and Tom Benson.
Judge and 2013 Turner Prize nominee, Lynette Yiadom-Boakye said: "One of the most wonderful things about this process has been the opportunity to really look at and talk about painting.
"We spent a long time looking at and arguing about all of the entries. It was far more complex than talking in basic terms of likes and dislikes but about attempting to understand what painters are actually trying to achieve in their work.
"It's been an honour and a pleasure to spend time with the work of so many kindred spirits; people who face the same confidence crises, dilemmas and good times in the studio as I do."
Dubbed the 'Oscars of the painting world', the Prize, organised in partnership with the John Moores Liverpool Exhibition Trust, has garnered a reputation for keeping its finger on the pulse of contemporary painting for almost 60 years. Past winners include David Hockney (1967), Mary Martin (1969), Peter Doig (1993) and most recently, Sarah Pickstone (2012).
The John Moores Painting Prize is part of National Museums Liverpool's Modern Masters series, part funded by the European Union - the European Regional Development Fund (ERDF).
It is also supported by our exhibition partner Weightmans and sponsor Investec.
John Moores Painting Prize 2014 exhibitors (alphabetical order) and works
Phil Ashcroft - Crockett
Jo Berry - Untitled 2013
Jane Bustin - Christina the Astonishing 1
James Byrne    - Book
Wayne Clough - Citadel
Paul Collinson - Et in Arcadia lego
Christopher Cook -Vanity totem
David Dawson - 18 45 April 7th 2011
Robin Dixon - Estuary Bridge
Fiona Eastwood - Closed
Robert Fawcett - Frank As Androcles
Tom Hackney - Chess Painting No. 21(Duchamp vs. Kostic, Nice, 1930)
Susie Hamilton - Freezer
Rae Hicks - Sometimes I Forget That You're Gone
Charlotte Hopkins-Hall - A Private Space
Barbara Howey - Orange Sash
Julian Hughes-Watts - New Logo(White-Red): Bear Stearns#15
Thomas Hylander - Living Room
Andy Jackson - ThrStrps
Nicholas Kulkarni - Tracer
Rachel Levitas - Fox with Dahlias IV
Juliette Losq - Vinculum
Hynek Martinec - Every Minute You Are Closer To Death
Andrew McIntosh - Abandoned Dollhouse 6: Sorting Station
John McSweeney - Legacy
Nicholas Middleton - Black Bloc
Reuben Murray - Sister, is that you?
Tony Noble - Small homes and big trees, Batley Carr.
Grace O'Connor - Girl Fight
David O'Malley - King of Infinite Space/Don't Let Life Pass You By
G E Palmer - The Virgin Pin
Mandy Payne - Brutal
Daniel Pettitt - Standard
Frank Pudney - People 69104
Emma Puntis - Untitled, 2013
Alessandro Raho - Jessica
Timothy Renshaw - nowhere
Neal Rock - Inked Prosopon / 0813
Conor Rogers - 88 calorie
Karen Roulstone - Drift
Gideon Rubin - Three Girls
Alli Sharma - Ingrid 2 (A Kind of Loving)
Mark Siebert - Losers (Homerton High Street 3)
Mike Silva - Landscape (257)
Rebecca Sitar - Under the tree
Ian St.John - Fallen Matter
Lexi Strauss - Tupperware Party (from The Twelve Apostles as Babies series)
Trevor Sutton - Christow
Covadonga Valdés - Homeland
Roxy Walsh - Tunnel of Love
Rose Wylie - PV Windows and Floorboards
Carlos Zuniga - Woman on the grass

www.liverpoolmuseums.org.uk/johnmoores
Twitter: @johnmoores2014
Facebook: www.facebook.com/johnmoorespaintingprize
Notes to editors
John Moores Painting Prize facts:
•    The John Moores Painting Prize is the UK's biggest painting prize. The competition is entered anonymously and open to all UK-based artists working with paint.
•    Sir Peter Blake, winner of the junior award in 1961 became the first patron of the Prize in 2011.
•    The John Moores Painting Prize is organised in partnership with the John Moores Liverpool Exhibition Trust.
•    The John Moores Painting Prize is part of Liverpool Biennial, one of the UK's largest and most exciting contemporary visual arts events. The 8th Liverpool Biennial International Festival of Contemporary Art, will take place from Saturday 5 July – Sunday 26 October 2014.
•    The £2014 Visitors' Choice award, sponsored by Rathbones will be announced in November.
•    The five prize winners from the John Moores Painting Prize China 2014 will also be on display.

ERDF in the Northwest
ERDF is making a real difference to people and businesses in the North West. The current programme, which is worth €755 million, is enhancing the competitiveness of the region's economy by supporting growth in enterprise and employment.
ERDF in the North West is managed by the Department for Communities and Local Government – for further information visit https://www.gov.uk/erdf-programmes-progress-and-achievements
Liverpool Biennial 2014: The UK Biennial of Contemporary Art

Saturday 5 July – Sunday 26 October
International art that unfolds across Liverpool's spaces, places and galleries.

The 8th Liverpool Biennial exhibition explores art in everyday life and is curated by Mai Abu ElDahab and Anthony Huberman. It takes place across the city at venues including public spaces and galleries such as the Bluecoat, FACT and Tate Liverpool. Also featured in Liverpool Biennial 2014 are the John Moores Painting Prize, Bloomberg New Contemporaries, and shows at Open Eye Gallery and LJMU's Exhibition Research Centre. In addition, there will be work by artists and curators in solo and group exhibitions and performances throughout the city.
About National Museums Liverpool
National Museums Liverpool comprises eight venues. Our collections are among the most important and varied in Europe and contain everything from Impressionist paintings and rare beetles to a lifejacket from the Titanic.                                                          
We attract more than 2.7 million visitors every year. Our venues are the International Slavery Museum, Lady Lever Art Gallery, Merseyside Maritime Museum, Museum of Liverpool, Sudley House, Border Force National Museum (Seized! The Border and Customs Uncovered), Walker Art Gallery and World Museum.

One of the finest art galleries in Europe, the Walker Art Gallery is home to renaissance masterpieces, Tudor portraits and one of the best collections of Victorian and Pre-Raphaelite art in the country. An outstanding display of contemporary art includes work by David Hockney, Lucian Freud and Bridget Riley.

Walker Art Gallery William Brown Street, Liverpool     Admission FREE
Open 10am-5pm every day                                           Information 0151 478 4199

Website liverpoolmuseums.org.uk/walker
Twitter www.twitter.com/walkergallery
Facebook www.facebook.com/walkerartgallery