Victorian Treasures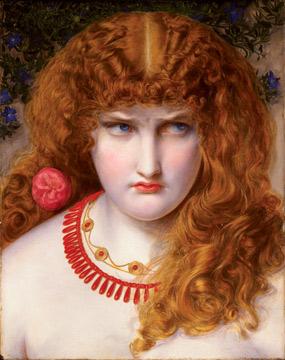 Walker Art Gallery to host major Victorian art exhibition in January
The impressive extent of National Museums Liverpool's Victorian art collection will be revealed in a new exhibition at the Walker Art Gallery. Victorian Treasures, which runs from 27 January to 7 May 2017, brings together more than 60 outstanding paintings and watercolours from the art collections of the Lady Lever Art Gallery, Sudley House and the Walker itself.
Victorian Treasures explores the work of leading 19th-century classical artists such as Frederic Leighton, Lawrence Alma-Tadema and Edward John Poynter. It also showcases work from pioneering Pre-Raphaelite artists including John Everett Millais, Dante Gabriel Rossetti and William Holman Hunt.
A number of rarely-seen watercolours by artists including Simeon Solomon, Helen Allingham, Ford Madox Brown and Kate Greenaway will be on show, as well as Edward Burne-Jones' monumental watercolour Sponsa de Libano, which stands at more than three metres high.
Organised and selected in partnership with the art historian Christopher Newall, the exhibition toured four major cities in Japan during 2015 and 2016, where it was seen by more than 150,000 visitors.
Alex Patterson, assistant curator at the Walker Art Gallery, said:
"National Museums Liverpool houses one of the finest collections of Victorian art in Europe. This exhibition provides a rare opportunity to see these incredible works together in one gallery, while revealing the captivating context in which they were created and collected.

"We hope that fans of our Pre-Raphaelite paintings will enjoy discovering more about the ideologies that inspired these works. Interestingly, the ideas that motivated the Pre-Raphaelite painters at the Royal Academy are quite different to those that influenced their 19th-century contemporaries who trained in Europe. Victorian Treasures examines these fascinating variations."
The exhibition looks at the full breadth of Victorian art by exploring four key themes: Victorian romantics; painters of the Ancient World; the outside world; and late 19th century symbolists.
The Victorian period marked an important change in the way people used and viewed art. Painters focused on the imagination of the spectator and began exploring new, challenging subjects.
They explored the fundamentals of human existence and painted emotional scenes inspired by legend and mythology. Artists were also interested in classification, documentation and enlightenment; freely experimenting with new ways of representing the physical world.
Painters also adapted to the expectations of the rising middle class. As rich merchants and industrialists could afford to become art collectors, a commercial art world developed and painters began making work that would tempt and interest potential buyers.
Liverpool enjoyed huge prosperity from the 18th century until the Second World War. Merchant trade, ship-building and the maritime industry brought great wealth to the city. The successful merchants bought large houses and filled them with outstanding collections of art and furniture. These art works helped to form the collections of National Museums Liverpool.
Victorian Treasures follows the popular Pre-Raphaelites: Beauty and Rebellion exhibition held at the Walker in 2015. It brings together a completely different selection of artworks exploring the full scope of National Museums Liverpool's 19th-century art collections.
Free entry
Open daily 10am-5pm
Walker Art Gallery, William Brown Street, Liverpool, L3 8EL
Telephone 0151 478 4199
Twitter: www.twitter.com/walkergallery
Facebook: www.facebook.com/walkerartgallery
Instagram: www.instagram.com/walkerartgallery
Notes to editors:
The Japanese tour
Victorian Treasures toured the below venues in Japan during 2015 and 2016. The exhibition was selected in partnership with the exhibition agency Artis Inc and the art historian Christopher Newall. It was titled Paintings of a Romantic Age.
Niigata City Art Museum (19 July – 23 September 2015)
Nagoya City Art Museum (3 October – 13 December 2015)
Tokyo, Bunkamura Museum of Art (22 December - 6 March 2016)
Yamaguchi Prefectural Art Museum (18 March – 8 May 2016)
About the Walker Art Gallery
The Walker Art Gallery houses an internationally-renowned collection of paintings, sculpture and decorative art. It is one of Europe's finest galleries, with a collection that ranges from outstanding modern and contemporary works to Medieval and Renaissance masterpieces. Some of the greatest British artists of the last century are represented in the contemporary galleries, from Lucian Freud to David Hockney, while the Gallery's Impressionist collection is not to be missed. Visitors can also see paintings by 17th and 18th century masters including Poussin, Rembrandt and Gainsborough, before taking in the Walker's famed Pre-Raphaelite collection. Younger visitors will love Big Art for Little Artists, a gallery designed to introduce children to art in a fun and interactive way. The Walker Art Gallery is an Arts Council Collection National Partner. Between April 2016 and March 2019, the Gallery will curate and host an exciting and innovative series of contemporary art exhibitions, drawn from the Arts Council Collection.
About the Lady Lever Art Gallery
The Lady Lever Art Gallery has stood at the heart of the picturesque village of Port Sunlight for a hundred years. Built by William Hesketh Lever in dedication to his late wife, Elizabeth, the Gallery houses the best of Lever's impressive personal art collection. Paintings by some of Britain's most influential artists are on display, from Lord Leighton and Sir Joshua Reynolds to George Romney and JMW Turner. The Gallery also houses an internationally-renowned Pre-Raphaelite art collection, featuring works by Burne-Jones, Holman Hunt, Millais and Rossetti. The Lady Lever's South End galleries house the best collection of Wedgwood jasperware in the world, one of the finest collections of Chinese porcelain in Europe and outstanding 18th century paintings, furniture and sculpture. These exceptional collections have been redisplayed following a £2.8m major restoration programme, which was completed in spring 2016.
About Sudley House
In Sudley House visitors can see the only surviving Victorian merchant art collections in Britain still hanging in its original location. It is also one of a few period homes in the country decorated in Victorian style, still with many of its original features. Located in the leafy suburbs of south Liverpool, Sudley is the former home of Victorian shipping merchant George Holt, whose passion for art saw him adding some world renowned works to his collection, which can still be seen today. Works on display include paintings by major Pre-Raphaelite artists such as Rossetti, Holman Hunt and Millais, along with paintings by Landseer, Turner, and a group of 18th-century portraits by Gainsborough, Reynolds, Romney and Leighton.
About National Museums Liverpool
National Museums Liverpool comprises eight venues, including some of the most visited museums in England outside of London. Our collections are among the most important and varied in Europe and contain everything from Impressionist paintings and rare beetles to a lifejacket from the Titanic. We attract more than 2.8 million visitors every year. Our venues are the Museum of Liverpool, World Museum, the Walker Art Gallery, Merseyside Maritime Museum, International Slavery Museum, Border Force National Museum, Sudley House and the Lady Lever Art Gallery.