Zoo Logic by Mark Leckey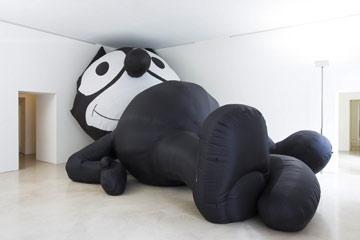 Felix the Cat installations by Turner Prize-winning artist on show at the Walker
A huge, inflatable version of Felix the Cat is one of two installations by Turner Prize-winning artist Mark Leckey to be displayed at the Walker Art Gallery as part of a new exhibition. ZOO LOGIC by Mark Leckey runs from 9 September 2016 until 26 February 2017.
The Birkenhead-born artist is known for his long-standing interest in moving image and broadcast technology, and specifically in Felix the Cat; a Felix doll on a gramophone turntable was the first picture to be transmitted on TV in America in 1928.
In addition to the ten-metre-high Inflatable Felix, the gallery will display FEELINTHECAT, a 70th Anniversary Arts Council Collection commission. This major new installation invites visitors to enter a large dome, shaped to resemble Felix's head.
Inside the dome, two screens play a looped film which shows Mark Leckey 'transforming into Felix', inspired by a photograph of a Disneyland cast-member in a Mickey Mouse costume. The shape of the dome acts as a giant speaker, amplifying the sound of the film to create an immersive experience.
On his interest in Felix the Cat, Mark Leckey said:
"I liked that it was a two dimensional cartoon that became a three dimensional doll, that then became this electronic entity that got broadcast out into the ether. For me, Felix symbolises the way in which technology blends the real and virtual worlds."
Leckey cites a performance lecture that he gave at the Institute of Contemporary Arts (ICA) in London, titled 'In the Long Tail', as the starting point for his fascination with Felix. His lecture drew on an image he'd found on the internet of the cartoon feline, from which he discovered its origins as the first broadcast image.
Mark Leckey was born in 1964 in Birkenhead, and lives in London. He won the Turner Prize in 2008. His artwork includes sculpture, sound, video and performance. He is fascinated by the power of images, music, objects and technology.
The Walker Art Gallery has recently been announced as an Arts Council Collection National Partner. Further details of the National Partner Programme will be announced soon.
liverpoolmuseums.org.uk/zoologic
#zoologicfelix
#ACC70
Notes to Editors
About Mark Leckey
Mark Leckey was born in 1964 in Birkenhead and graduated from Newcastle Polytechnic in 1990. He lives in London. He won the Turner Prize in 2008. His artwork includes sculpture, sound, video and performance. He is fascinated by the affective power of images, music, objects and technology. Notable works include Dream English Kid, 1964 – 1999 AD (2015) (exhibited at the Blade Factory as part of Liverpool Biennial 2016), Fiorucci Made Me Hardcore (1999) and Made in 'Eaven (2004). Exhibitions include UNIADDDUMTHS, Gavin Brown's enterprise, Sant'Andrea de Scaphis, Rome, Italy (2016), This Kolossal Kat, that Massive MOG, Grundy Art Gallery, Blackpool, UK (2016), Dream English Kid 1964 – 1999 AD, Galerie Buchholz, Berlin, Germany (2016), Lending Enchantment to Vulgar Materials, Museo MADRE, Naples, Italy (2015) and WIELS Contemporary Art Center, Brussels, Belgium (curated by Elena Filipovic) (2014), On Pleasure Bent, The Hammer Museum, Los Angeles (2013) and The Universal Addressability of Dumb Things, Hayward, UK, The Bluecoat, Liverpool, UK, Nottingham Contemporary, Nottingham, UK, De La Warr Pavilion, Bexhill-on-Sea, UK (2013).
About the Walker Art Gallery
The Walker Art Gallery has housed an internationally-renowned collection of paintings, sculpture and decorative art for almost 140 years. From an outstanding collection of modern and contemporary works to Medieval and Renaissance masterpieces, it is one of Europe's finest galleries. Visitors can see paintings by 17th and 18th century masters including Poussin, Rembrandt and Gainsborough, before taking in the Walker's famed Pre-Raphaelite collection. The Impressionist works are not-to-be-missed, while some of the greatest British artists of the last century are represented in the contemporary galleries, from Lucian Freud to David Hockney. Younger visitors will love Big Art for Little Artists, a gallery designed to introduce children to art in a fun and interactive way.
About National Museums Liverpool
National Museums Liverpool comprises eight venues, including some of the most visited museums in England outside of London. Our collections are among the most important and varied in Europe and contain everything from Impressionist paintings and rare beetles to a lifejacket from the Titanic. We attract more than 2.8 million visitors every year. Our venues are the Museum of Liverpool, World Museum, the Walker Art Gallery, Merseyside Maritime Museum, International Slavery Museum, Border Force National Museum, Sudley House and the Lady Lever Art Gallery.
About Arts Council Collection
The Arts Council Collection is a national collection of British art from 1946 to the present day and holds nearly 8,000 works which are available for loan to spaces across the UK. With more than 1,000 loans made to over 100 venues a year, it is seen by millions of people annually in public spaces from galleries and museums to hospitals, libraries and universities. Representing one of the most important collections of British modern and contemporary art in the world, it includes work from Francis Bacon, Barbara Hepworth and Henry Moore to Lucian Freud, Antony Gormley and Grayson Perry. The Collection supports and promotes British art and British artists by buying art when they are in the early stages of their career, and continues to acquire new work and support emerging artists. The Arts Council Collection is managed by Southbank Centre, London and the Sculpture Centre is located at Longside in Yorkshire Sculpture Park. www.artscouncilcollection.org.uk
The Arts Council Collection's 70th anniversary
The Arts Council Collection is celebrating its 70th anniversary during 2016 with eight new commissions that will go on display across the UK throughout 2016; two new touring exhibitions, Night at the Museum, curated by Ryan Gander, and Drawn from Life: People on Paper; and the newly-launched National Partners programme, which will deepen the Collection's longstanding relationship with four key museums and galleries around the country: the Towner Art Gallery, Eastbourne; Birmingham Museums Trust; and the Walker Art Gallery, National Museums Liverpool; and the Collection's existing partner, Yorkshire Sculpture Park.
Southbank Centre is the UK's largest arts centre, occupying a 21-acre site that sits in the midst of London's most vibrant cultural quarter on the South Bank of the Thames. The site has an extraordinary creative and architectural history stretching back to the 1951 Festival of Britain. Southbank Centre is home to the Royal Festival Hall, Queen Elizabeth Hall, Purcell Room and the Hayward Gallery as well as The Saison Poetry Library and the Arts Council Collection. For further information please visit www.southbankcentre.co.uk. Southbank Centre is carrying out vital restoration work on the Hayward Gallery, Queen Elizabeth Hall and Purcell Room to make the buildings fit for future generations to enjoy, more information can be found here: letthelightin.southbankcentre.co.uk.