10 things you should know about Thérèse Lessore
Thérèse Lessore, like many women artists from history, has never received the attention and acclaim she undoubtedly deserves. She has historically been referred to as Sickert's student or assistant, when, in reality, she was so much more.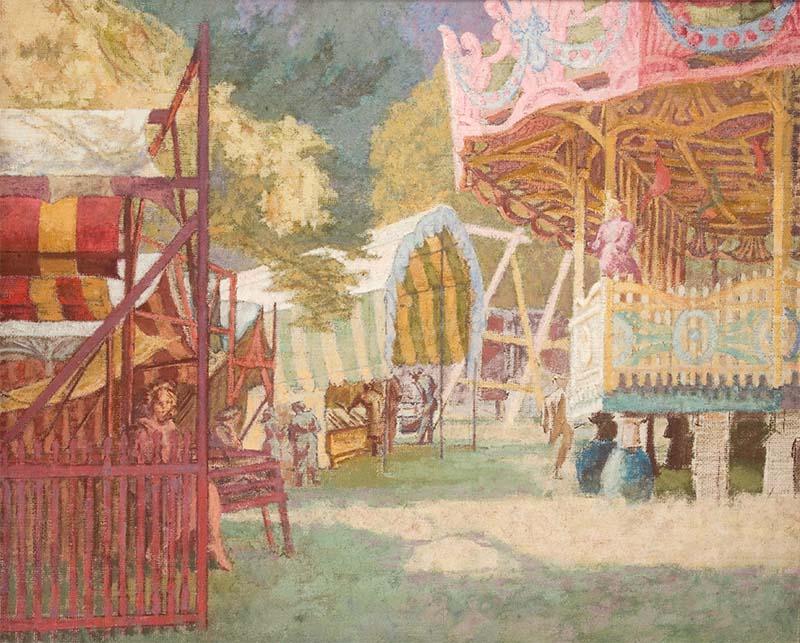 1. She was a prize-winning artist 
Thérèse Lessore studied at London's Slade School of Art between 1904-09, and in her final year, she was awarded the Melville Nettleship Prize for Figure Composition. This prestigious prize is still awarded to this day. 
Photo of Thérèse Lessore year at the Slade School of Art
2. She had two solo exhibitions 
Thérèse Lessore had her first solo painting exhibition at the Eldar Gallery in London in 1918. In the exhibition catalogue's preface, Walter Sickert praised her "sense of design, her spare style, and her technical skill in extracting value from the interplay of coloured underpaintings and final coats of local colour". Lessore had her first solo watercolour show in 1926. 
3. She was denied entry to the Camden Town Group 
Sickert was a founder member of this artists' group, named after the area of north London where several of the artists lived and worked. The Camden Town group's members aimed to reflect the realities of modern urban life through their art. 
Lessore frequently painted domestic interiors and scenes of everyday life, much like the Camden Town Group. Despite the similarities in style and subject, Lessore was not allowed to join the group, as women were excluded from becoming members. 
Bath, Thérèse Lessore, 1938 - 1943, in the Walker Art Gallery collection
4. She was a founder member of the London Group 
To challenge the domination of the Royal Academy of Arts, which many artists felt had become unadventurous and conservative, the Camden Town Group joined forces with Thérèse Lessore, the English Vorticists and other independent artists to form The London Group in 1913. Other founding members included the women artists Ethel Sands and Anna Hope Hudson. The group still exists today, with over 80 members. 
Flute and Harp, Therese Lessore, 1884-1945 © National Museums NI, Ulster Museum Collection
5. She was married to Walter Sickert 
Thérèse Lessore and Walter Sickert had a professional relationship for many years before they married in 1926, following Lessore's divorce from the painter and textile designer Bernard Adeney in 1921. At the time of their marriage, Sickert was suffering from ill-health. A friend of the couple, Sylvia Gosse, later suggested the marriage was motivated by Sickert's desire to ensure Lessore would be looked after following his death – their marriage would have entitled Lessore to a widow's pension from the Royal Academy. 
Thérèse Lessore, Walter Richard Sickert, about 1920, in the Walker Art Gallery collection
6. Her paintings have been wrongly attributed to Sickert 
Lessore was known for her delicate brushwork and bright palette, which was quite different to Sickert's work. As Lessore became more involved in Sickert's work later on in both their careers, their painting styles merged and they often painted the exact same subject. This led to some of Lessore's works mistakenly being attributed to Sickert. 
Lower Common Bath, Thérèse Lessore ©National Museum Wales
7. She was a crucial figure in creating Sickert's later works 
With Sickert's ailing health, the couple moved to Brighton where Lessore became more involved in Sickert's paintings, even finishing his works when he wasn't able to. Sickert would have been unable to complete his later paintings without her considerable input. 
Theatre Audience, Thérèse Lessore, in the Walker Art Gallery collection
8. She came from a family of Artists 
Her parents were the French painter Jules Frederick Lessore (1849-92) and his wife Ada Louise Cooper. Her grandfather was Émile Lessore (1805-76), a French ceramic artist and painter who had designed and decorated Wedgwood pottery from the 1860s onward. Her brother Frederick Lessore was a sculptor who founded and ran the Beaux Arts Gallery in London, and her elder sister Ada Louise Powell was a Wedgwood pottery designer. 
9. She was a photographer 
Lessore was an avid photographer and would take pictures of everyday life in Brighton. Sickert's late works were often based on Lessore's photographs, which she enlarged onto canvas to be painted. 
Seated Women, Thérèse Lessore, in the Walker Art Gallery collection
10. She is one of many overlooked women artists in history 
Sickert has traditionally been credited as the dominant artist in their professional relationship and Lessore's contribution has often been reduced to that of a studio assistant. However, it is critical to acknowledge the creative role that Lessore has played in the production of Sickert's late works and her role as his collaborator rather than his student.