42, then and now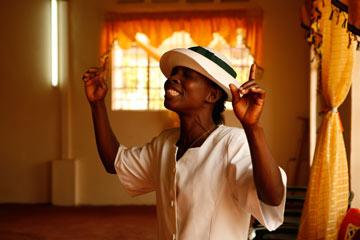 '42' Women of Sierra Leone
closes in just two weeks on Tuesday 5 June, I asked photographer
Lee Karen Stow
for an update on the project.
---
"It's been a little over a year since 42 opened at the International Slavery Museum in Liverpool, and what a year it's been. The exhibition is a major platform for this very personal photographic documentary work on the lives of women in a country where life expectancy for them hovers around the mid-40s.
42 has also served as an inspiring tribute to the members of our grassroots Women with Cameras project in Sierra Leone. Slowly, and with many barriers to overcome, the women are using photography to earn incomes, advocate for change on issues which affect them, and explore creative expression. Photography is having a significant impact on their lives, and their growing and fascinating catalogue of images show what life is really like, on the ground, in this West African country.
Since Rebecca Kamara from Freetown, Sierra Leone, officially opened the exhibition on International Women's Day 2011, much has happened. Rebecca returned to her rural village to grow her photography business, armed with a donated generator, finally to have electricity. Francess Ngaboh-Smart visited the UK to deliver slideshow talks, workshops in schools, and then to accept a scholarship to study at the Pacific NorthWest Art School in the US with National Geographic photographer Sam Abell. I returned to Sierra Leone for a sixth visit to continue 42 and Women with Cameras, and also the Fighting for Gold photo essay, which I hoped might help the women's boxing team, desperate for support, realise their dreams of taking part in the Olympic Games at London 2012.
So many highs, but too many lows. Francess was robbed at gunpoint in her own home and had her precious laptop stolen. Gladys - in fact, many women - were struck by malaria. Rebecca, on her way to have wedding photos printed for a client, was hit by a taxi (I spoke to her by Skype and her foot is still swollen, she has pains in her head and her eyeball hurts so much she's keeping her eye closed for comfort). Grace Brown, head of the women's boxing team died, during this Olympic year, from breast cancer at the age of 43. She had also suffered a stroke.
Sometimes I feel helpless, hopeless and inadequate, but more often than not I feel immensely proud to know such spirited women who seem to pick themselves up at lightning speed, and carry on, because they have to. No other option. And they still have hope. It's vital to follow their example, to keep going and keep hoping.
On behalf of 42 and Women with Cameras, I want to thank everyone who came to see our exhibition, and hear these ladies speak. Support, interest and encouragement from the public has been tremendous and we promise to tell you, and show you, more. Thank you!"
As her rather wonderful exhibition