Activism shapes our collections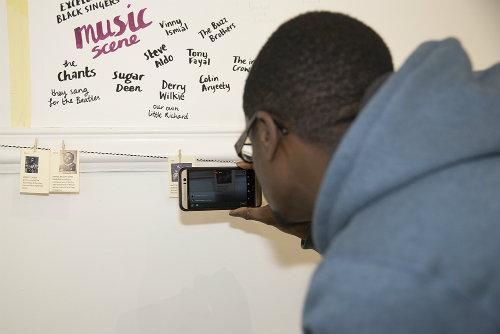 A visitor taking a closer look at our activism timeline at the Sankofa project launch event.
As part of the Sankofa project we have explored Black activism in Liverpool. An activist is a person who campaigns to bring about political or social change.
These words can definitely be used to describe Chief Bassey Duke Ephraim (also known as Bassey Orok Edem). I first became aware of him when speaking to the Zachary Kingdon , curator of African Collections at World Museum. Zachary tells us more about Chief Bassey and his connections to Liverpool: 
"World Museum's important African collection contains artefacts from a great many sources and from across the African continent. Among the most interesting items are those that were donated by West Africans at the beginning of the 20th century through the steam ship engineer Arnold Ridyard.
Wooden box decorated with poker-work designs made by an Efik carpenter at Old Calabar, southeast Nigeria. Donated to the World Museum through Arnold Ridyard in 1909 by Bassey Duke Ephraim.
About one hundred West Africans are known to have donated items to the collection and among these many were activists against colonial legislation that threatened to strip African authorities of control over their traditional lands and resources.
In 1913 Chief Bassey formed part of a delegation of chiefs and dignitaries from southern Nigeria who travelled to London to oppose British colonial land legislation. Chief Bassey was a member of the 'native council of Calabar' which sought to represent the interests of the Efik people and other groups in the Cross River region of southeast Nigeria. On 6 June 1913 he gave evidence on Efik land tenure customs before the then Colonial Secretary and various MPs.
Chief Ephraim partly owed his literary skills to his early education in Liverpool. As a child he had attended Waterloo College on Crosby Road South. There he excelled, with the Bootle Times listing him as a prize-winner in mathematics in both 1890 and 1891.
1913 was also the year in which the National Congress of British West Africa was formed. Bassey Duke Ephraim joined  its first meeting in March 1920 at Accra in the Gold Coast. The congress aimed to use constitutional means to achieve political reforms and called for better health and educational services. Other West Africans who attended the 1920 Congress meeting in Accra, who were also donors to the African collections at World Museum, included Henry Van Hein of Cape Coast, the Alata Manche ('King') Kojo Ababio IV of James Town Accra, and Christian Josiah Reindorf of Accra."
Group photograph of members of the National Congress of British West Africa at Accra on the occasion of their first meeting in March 1920.
Find out more about activism in Liverpool, including our activism timeline, as part of our Sankofa project section of the website.