All hail Stewart Bale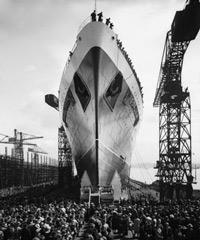 There are many many reasons why the exhibition Metropolis: capturing modern Liverpool, which has just opened at the National Conservation Centre, is really rather brilliant.
Firstly the photographs, which all come from the Stewart Bale collection held at the Maritime Archives and Library, are all stunning. If you don't believe me, The British Journal of Photography (who know a bit about these things) described the name of Stewart Bale as being "associated with a quality of performance never equalled in the field of photography".
Secondly, they document a period of tremendous change and significant events in Liverpool's history, including the construction of the Anglican cathedral and launch of the Mauretania II at Cammell Laird to name just a couple.
Thirdly, there are lots of instantly recognisable local streets and landmarks in the photographs. Some of them have changed significantly, others are only subtley different now, but all of them make really absorbing images. I really like the view across the city's rooftops from 1934, which includes St Luke's church and the partially built Anglican cathedral. Since then the cathedral's tower has been finished but the church (known locally as 'the bombed out church') is now an empty roofless shell, so you still wouldn't get a completed view of both buildings today.
Need I say more? Do pop in if you have a chance, you've got until 10 August when the exhibition closes.