The allure of Mary Wollstonecraft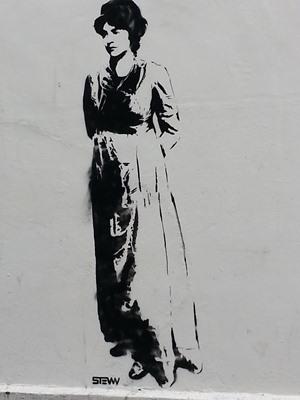 John Williamson's portrait of Mary Wollstonecraft What is it about the Walker Art Gallery's portrait of 18th century feminist visionary
Mary Wollstonecraft
that warrants its inclusion in our pioneering new LGBT project
Pride and Prejudice
? In this blog, art historians 
Camilla Mørk Røstvik
and
Lucy Johnson
explain why it is so important that this particular painting is brought 'out of the closet' and given greater visibility. "There are few images of Mary Wollstonecraft that are known today. Although her 1792 publication,
Vindication of the Rights of Women
, survives as a key feminist text, her actual image has largely been lost. The
Mary on the Green
campaign, graffiti artist
Stewy
and several comic book illustrators have tried to rectify this recently, building on public outcry at the lack of a statue of this historically important radical. However, one image captured during Wollstonecraft's lifetime gives a particularly striking insight into her nature.
The Walker Art Gallery
's portrait of Mary Wollstonecraft (currently on display at the
People's History Museum
, Manchester) is a unique and captivating image. In the portrait, attributed to John Williamson, Wollstonecraft emerges as a powerful, asexual and atypical 18th-century woman. In a powdered wig, clad in the revolutionary style of French intellectuals, Wollstonecraft stares right back at us. As researchers in residence at the People's History Museum last year, Lucy Johnson and myself spent a lot of time with the portrait, which seemed to raise as many questions as it answered. Who was John Williamson, and was he actually the painter? Why did
William Roscoe
, the Liverpool revolutionary, commission the painting? What did Mary think of it? And most importantly why is it not this powerful image that comes to mind when we think of Wollstonecraft, but rather the soft, beautified, pregnant
John Opie version
?
Stewy's 21st century take on Mary Wollstonecraft As part of our project we interviewed scholars and experts about images of Wollstonecraft but few of them were aware that the Walker's portrait existed. However, when we organised a series of events celebrating Wollstonecraft, we saw first hand how well people responded to Williamson's portrait. The comment that was usually made was that she looked 'strong', 'smart' and 'proud'. The Opie portrait certainly shows us Wollstonecraft, but it does not show us those traits. In fact, the Walker's portrait is doing what Opie's portrait never could do – it is inspiring artists to again consider Wollstonecraft. Graffiti artist Stewy has donated a stunning piece about Wollstonecraft to the People's History Museum in Manchester (on show now). The feminist poetry collective Stirred
have also created poetry based on the portrait
. This experience confirmed our belief that the painting deserves a higher profile As part of our research we sought to understand why this painting has not yet received the critical attention we believe it deserves. We wondered whether or not the public reach of the painting had been affected by the attribution of the portrait to Williamson, an artist not as well known as Opie. Archive material from the Walker Gallery shows that the attribution has, in any case, been a consistent source of debate. Letters questioning the attribution have been arriving at the Walker for decades, and as late as the 1990s, with some even suggesting the portrait may be by Opie after all. The attribution to Williamson can be traced to one person, the
art historian Hugh Macandrew
, whose archives we hope to examine in the future. After our investigation we do not feel able to confidently say that the portrait was done by Williamson. We do, however, have no better suggestion except to question if it actually matters. Whether it is Williamson or not, the painter of this extraordinary painting certainly deserves some praise. This is not second-rate portraiture, this is great art! The portrait is now available to view online as part of National Museums Liverpool's Pride and Prejudice project, which aims to bring objects within the collections that are relevant to LGBT culture and identity to the fore. Of it's relevance to the project, Pride and Prejudice researcher Lynn Wray says: "Wollstonecraft's life is relevant to LGBT history and culture, not just because she is thought to have had a lesbian relationship with childhood friend Fanny Blood, but also because her ground-breaking text Vindication of the Rights of Women made pioneering claims for the rights of women to experience and express sexual desire, paving the way for more liberal attitudes to female sexuality." "
See the Mary Wollsteoncraft portrait online and find out more about it
.