Animal Mummies Revealed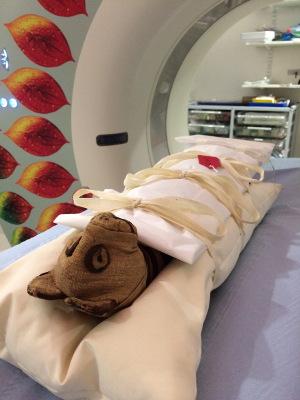 Our next exhibition 
Animal Mummies Revealed
 opens on 14 October at
World Museum
. Among the 113 artefacts in the exhibition are 34 from World Museum's
ancient Egyptian collection
, many of which have never been on display before. 'Animal Mummies Revealed' brings together mummies of all shapes and sizes, and a range of other artefacts from across the UK for the country's first ever exhibition devoted to why the ancient Egyptians mummified animals and gave them to their gods as gifts. Millions of bandaged animals have been found across Egypt, and thousands are now preserved in museum collections around the world. Visitors will discover that very few of these animals were pets, and that the process of transforming an animal into a sacred gift for a god was done on an industrial scale with many animals hastened to their death at an early age – from World Museum's collection you can see a kitten, a puppy and a
tiny lamb
(well bits of a lamb!). World Museum has 72 mummified animals, making it the largest collection in the north of England. Since 2013 we've been working with the
Ancient Egyptian Animal Mummy Bio Bank
at the University of Manchester to learn more about our collection using non-destructive techniques such as CT scanning. The two lead researchers, Drs Stephanie Atherton-Woolham and Lidija McKnight, found that to be the topic of public interest and approached staff of
Manchester Museum
, the
Kelvingrove Art Gallery & Museum
in Glasgow and World Museum to help develop an exhibition that would travel to the three venues. The partnership has brought each museum's internationally important collections together, alongside impressive loans from other museums that the Ancient Egyptian Animal Mummy Bio Bank has worked with. A mock-up of Stephanie's and Lidija's laboratory reveals the research work they have been doing to create their own animal mummies as a way of better understanding the ancient process (unfortunately the ancient Egyptians did not leave instruction manuals!).
Cat Mummy from World Museum being CT Scanned It's fitting that the exhibition comes to Liverpool as this is the port city where many animal mummies arrived when they were carried back from Egypt by archaeologists adding to museum collections; as souvenirs of a holiday in Victorian times… or as something only valued for their high phosphate levels and auctioned off by the ton! Yes, it's hard to believe that in 1890 over 180,000 mummified cats were sold in Liverpool to farmers who spread them on their fields as fertiliser. Mummified and buried over 2000 years earlier and then removed from the ground like coal dug out of a quarry. You can find out more about this story in the exhibition and in further blogs I'll be writing. There is also a
book
to accompany the exhibition, which you can buy in our shop. Animal Mummies Revealed opens 14 October 2016 to 26 February 2017.