Ann Davison - the first woman to sail the Atlantic single-handed
I want to share the story of Ann Davison (1914-1992), an amazing woman who was the embodiment of strength, courage and determination. She was a skilled pilot, a gifted author, an intrepid adventurer, and the first woman to sail the Atlantic single-handed.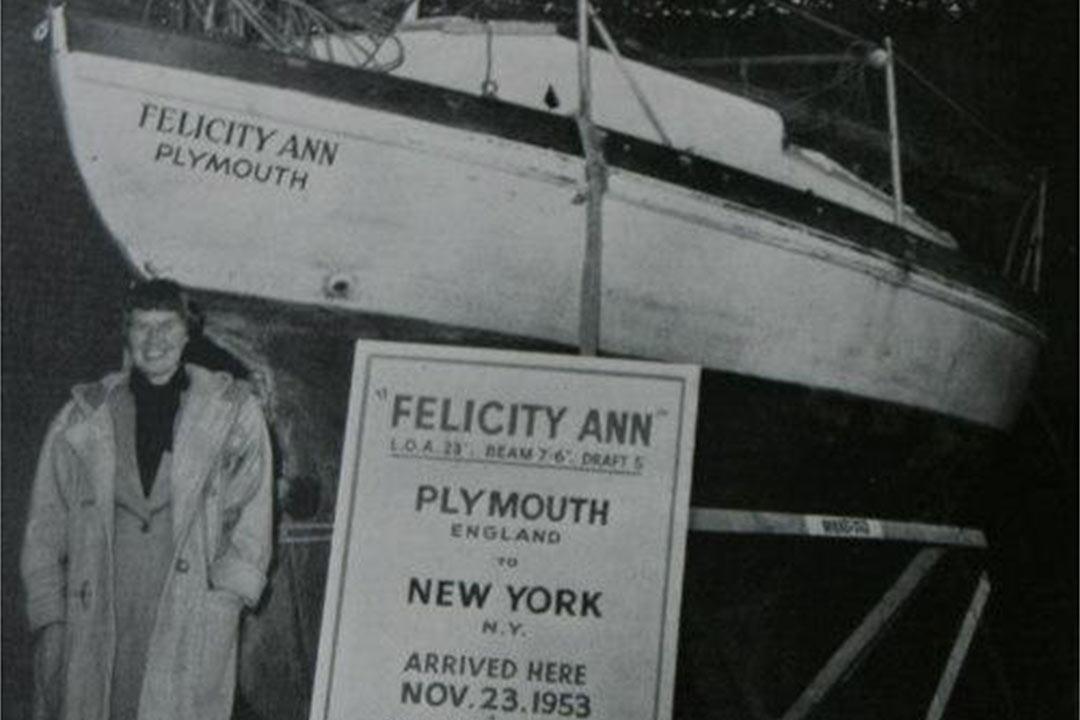 "It wasn't courage that sent me scurrying across the ocean. It was a little curiosity and a lot of desperation that went into the making of that particular dream..."
In October 2017 I was lucky enough to attend an event at Mere Brook House, Wirral, to unveil of a blue plaque commemorating Ann. Until then I admit that I didn't really have any knowledge of her, but when I started reading about her I was immediately drawn to her audacious nature and fearlessness. She was born Margaret Ann Longstaffe on 5 June 1914 in Surrey. She had an adventurous spirit from a young age, as she remarked later in her autobiography,
"...I was the sort of person who liked riding horses, flying aeroplanes, and driving fast cars..."
She traveled in her early years and, to mark her 21st birthday, voyaged to Buenos Aires on holiday where she flew a plane for the first time. Flying became a passion and she qualified as a pilot in the 1930s, at a time when few women flew. In 1937 she applied for a job at commercial airfield in Hooton, Wirral. It was managed by pilot Frank Davison, and as they worked together they found in each other a kindred spirit. They fell in love and were married in 1939. When war broke out their aerodrome was requisitioned by the RAF and so they were forced to leaving flying behind them.
They moved to Mere Brook House, Wirral, where they lived for several years and threw themselves in to subsistence farming. Ann and Frank were never content staying still for long, and the desire for a new chapter took hold so in 1943 they moved to the tiny Scottish island of Inchmurrin, and later Inchfad, on Loch Lomond. Here they endured some very difficult conditions, and harsh winters pushed them to their limits but it was in their nature to keep going. After overcoming all the obstacles and hardships of remote island life, they felt the familiar pull towards new adventures so in November 1947 they packed up and set off in search of a boat, with a desire to travel the world.
"...for some people the call of adventure, excitement, wanderlust – what you will – is absolutely irresistible; it supersedes everything else."
They purchased a 70 foot ketch (2-masted sailing vessel) 'Reliance', moored at Fleetwood, Lancashire. Ann and Frank poured everything in to making the vessel seaworthy, but found themselves in a desperate situation with the boat under threat of being repossessed. They felt their only choice was to set sail, despite Reliance being far from ready!
Frank had sailing experience but Ann was very much a novice. They were unlucky from the start and were caught in rough weather in the Irish Sea. Storm conditions overpowered them in the English Channel and Reliance was wrecked on rocks off Portland Bill. They launched their life raft but they were washed off it again and again, and tragically Frank lost his life.
Against all the odds Ann survived, and this awful event imbued her with ever more determination to help make sense of her loss. She discovered that she had a natural gift for writing and she wrote her book 'Last Voyage', describing their life together culminating in the shipwreck which claimed Frank's life.
She set herself the challenge of a lifetime. She bought a small wooden-hulled sloop 'Felicity Ann' (which she referred to as 'FA') and spent two years preparing the boat and teaching herself to sail. She departed from Plymouth on 18 May 1952. She was still relatively inexperienced but she made up for that with sheer nerve. She learned as she went along, and taught herself to navigate with a sextant as she sailed!
She was met with many challenges and her lack of experience showed, but all the while her towering resolve and strength of character helped her overcome the many hurdles she faced. Ann and 'FA' endured storms and difficult situations, but for Ann the hardest part was isolation. After a number of stop-overs, she finally set off across the Atlantic on 20 November 1952. Storms pushed her off course, but she eventually made land in Dominica on 23 January 1953. She spent time recuperating before sailing up to Florida and finally arriving in New York on 23 November 1953. Ann and 'FA' were the featured guests at the 1954 New York Boat Show to celebrate her historic achievement.
Ann with 'FA' at the New York Boat Show. Image courtesy of Shelly Randall. Copyright unknown.
She went on to write a book about her Atlantic crossing entitled 'My Ship is so Small'. She stayed in America, married again, and continued to sail and write. In her later years she settled in Florida; she died in 1992.
A few years ago, Ann's boat 'Felicity Ann' was donated to the Northwest School of Wooden Boatbuilding in Port Hadlock, Washington where major restoration work was undertaken. She was then presented to the Community Boat Project, Washington – a charitable organisation working with schools and communities, providing opportunities for maritime education. Their vision is to use 'Felicity Ann' and the story of Ann Davison to inspire people, especially women and girls - helping to empower more women to take to the water.