Anyone for crickets?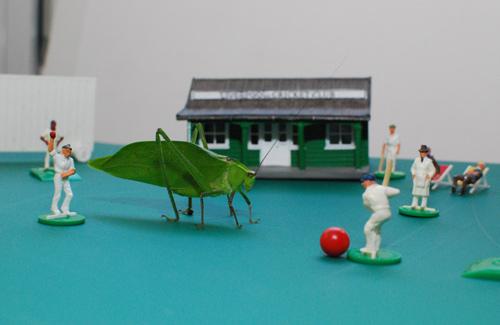 Our Bush Crickets have been bowled over by the success of our boys in the Ashes so far. We creased with laughter when we caught one of them trying his hand at fielding today. The staff in the
Bug House
have decided to reward their enthusiasm by naming them after test stars. 'Jimmy', named after fast bowler Jimmy Anderson is a nippy little fella and 'Swanny', named after spinner Graeme Swann, has a mean right arm. One of the crickets has turned over a new leaf, he's really looking after himself and we think he might have a new lady in his life. We're calling him Shane after Aussie bowling legend Shane Warne. We're stumped for names for our other five new crickets and need your help. Suggest a cricketing name for the members of our team in the comments section below or tweet us @world_museum and we'll pick the best. Now howzat for a challenge?
See more of Jimmy in action on flickr