Archaeology at the Atkinson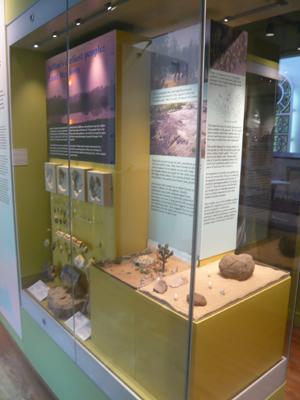 The display features a number of finds excavated at Lunt as well as other local evidence such as the Formby footprints Today we have a guest blog from Ron Cowell, Curator of Prehistoric Archaeology, Museum of Liverpool: "The latest exhibition at the Atkinson Museum, Southport features finds from Museum of Liverpool's regional archaeology collection.
Between Land and Sea- 10,000 years of Sefton's Coast
 opened on Friday 13 February displaying finds from Lunt Meadows. The exhibition includes a case of finds loaned from the Museum of Liverpool.  This tells the story of a settlement of the first people in Sefton, at
Lunt Meadows
. The site is currently being excavated by Museum of Liverpool archaeologists. This is an extremely rare kind of site nationally, belonging to some of the earliest post-glacial hunter-gatherers of these islands. Visitors to the Atkinson will be able to see very recently-excavated finds including stone tools from the site. Many such tools were probably brought into the region by mobile groups of people from the surrounding uplands. Other artefacts are believed to be extremely rare examples of hunter-gatherer belief and ritual discovered on the site. This material complements a case of exhibits from the Lunt Meadows excavations currently on display in the 
History Detectives
 gallery at the Museum of Liverpool, which is available for viewing until May 2015."