Art stories: David Lock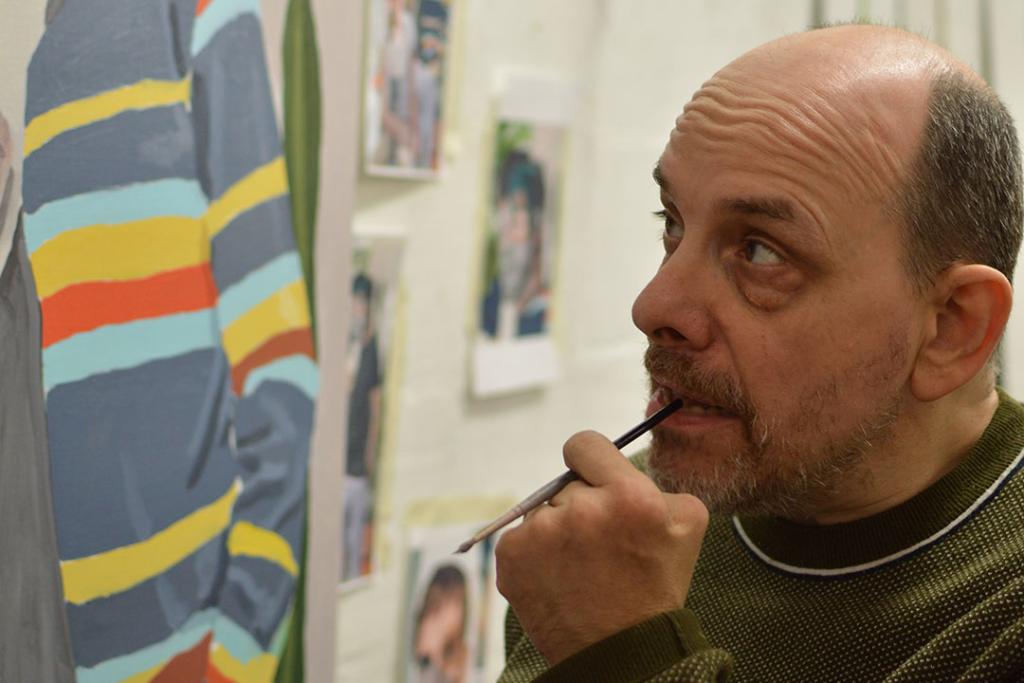 I can still remember vividly the moment I got that email from the John Moores Painting Prize saying that my painting had been selected for the exhibition. I was in the pub one afternoon, and having tried not to build my hopes up after getting through to round two, I was delighted. I stayed for another round, and ordered us cocktails!
I had tried many times previously to get in and I'd never got past the first round. I always follow it and it's a buzz to see who's in it, what the paintings are like, and who's shortlisted for prizes so it was brilliant to have been selected this time around.
Being a painter, you have yourself and the studio. It's rewarding painting but it's also a lonely game, so as an artist it's brilliant to get opportunities like this - it's a reminder to yourself that you are on the right track and the perseverance is paying off. There are other prizes and open calls of course, but I think as a painter, this is the one I wanted to get into.
My painting which was selected 'El Muniria', I'd made the previous year for an exhibition that celebrated the 50th anniversary of the death of my uncle, the playwright Joe Orton. It's named after the Beat Hotel in Tangier where William S. Burroughs wrote 'Naked Lunch'. It doesn't actually depict the hotel itself as such. I wanted to create an imagined space and giving it that title drew upon that history, and brought to my mind the still problematic history of Queer Tangier. I wanted to play with that association with these two partially clothed men.
To get selected, I think everyone is a winner as I know from experience it's very tough to get in. It was great to be showing alongside other artists whose work i'd admired for a long time, such as Frances Aviva Blane, Virginia Verran and Jake Clarke. I also made new connections with Joseph O'Rourke who put me in a show he curated 'Painters Posting Paintings', which also included several other artists from the 2018 John Moores.
When towards the end of the run the Walker got in touch about wanting to acquire the painting, well that really was the icing on the cake. It's such a privilege to have your painting in a public collection in the UK and the Walker's is one of the best.
After the John Moores, when I saw my work had been re-hung alongside David Hockney's iconic painting 'Peter Getting Out of Nick's Pool', well I loved that. You don't expect things like that to happen every day. I obviously realise too that as a painter it can be hard to be visible, you really have to keep going and get your work out there. Juried prizes are great for that.
After the John Moores, I got into the 'Creekside Open' 2019 selected by Sacha Craddock where I was a prizewinner, and I also applied for the 'BP Portrait Award' for the first time. However, I've already received my rejection email for that, so you win some, you lose some but you really have to keep on at it, that's the important thing.