Augustus John and Liverpool's Gypsy Lore Society
The exhibition 'The Last Bohemian' explores Augustus John's relationship with Liverpool and his connection to the renowned Gypsy scholar and University Librarian John Sampson. Sampson introduced John to Cabbage Hall, a waste-ground near Aintree occupied by Gypsy communities. He taught John the English dialect of the Romani language and later the deep, inflected Welsh dialect. John continued to search for Gypsy families throughout his life, learning their vocabularies, songs and rhymes. His interest in Gypsy culture greatly influenced his life and work. John was also elected President of the Gypsy Lore Society in Liverpool from 1937 until his death in 1961.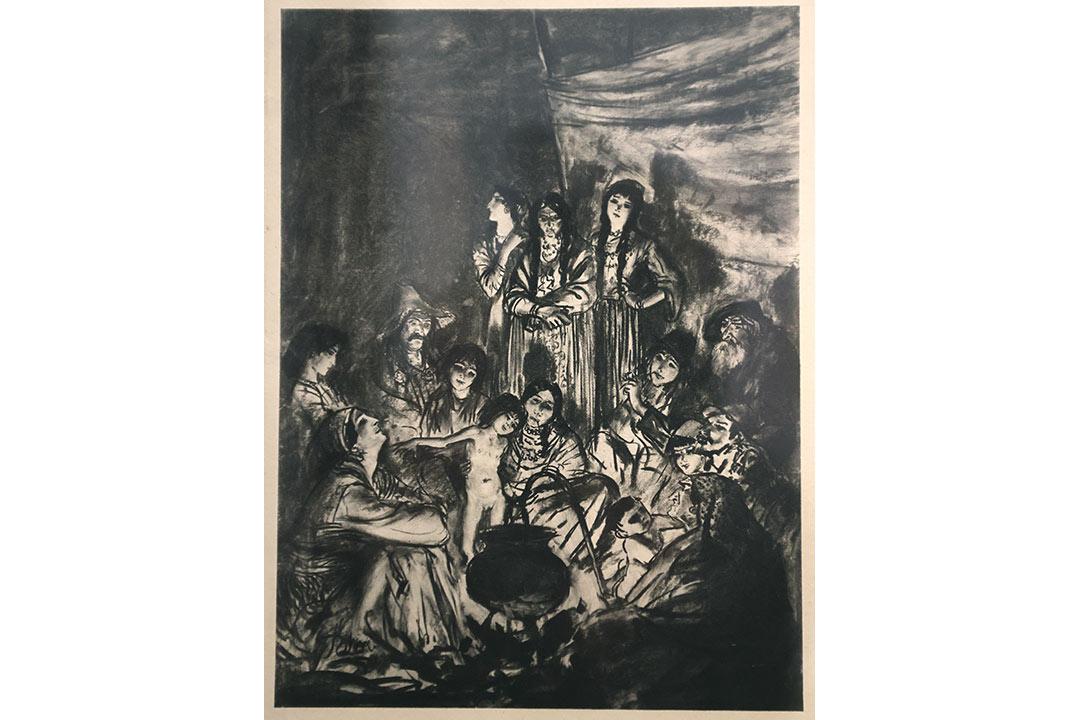 Wandering Sinnte by Augustus John, published 1908-1909. Lithograph on paper.
© the Estate of Augustus John/ Bridgeman Images
A new era for the GLS
In 1907 the Gypsy Lore Society (GLS) based in Liverpool was revived after an absence of fifteen years. Robert Andrew Scott MacFie was the financial sponsor and the catalyst that revitalised its development.
In contrast to the serious research of Gypsy scholar John Sampson, and the bohemian lifestyle of artist Augustus John, which is examined in detail in this exhibition, MacFie acted as Treasurer and Secretary of the GLS. He was also Editor of the Gypsy Lore Society Journal (JGLS), as well as mixing with Gypsies in Liverpool, Wirral, North Wales and Bulgaria; the latter was recorded in his book 'With Gypsies in Bulgaria' in 1916.
MacFie was meticulous in the running of the GLS, storing all incoming correspondence in letterbooks, and keeping a copy of all his replies, using a Watt Copying Machine. He claimed that he had filled at least ten letterbooks, each of a thousand pages. He also catalogued a library of books, press clippings and other ephemera. Many of these documents are preserved at the University of Liverpool's Special Collections and Archives.
At the outbreak of the First World War MacFie, who had been active in the Liverpool Scottish Regiment for many years, enlisted in the army in spite of his advancing age of 46. He served in France, being awarded a Military Medal. Without his focus, support and exceptional organisational skills, the GLS eventually foundered and folded in 1919, but was revived again in 1922.
Beneath his meticulous attention to details and apparent conformity, MacFie also had a Bohemian streak, for he had the arms and motto of MacFie of Dreghorn tattooed on his chest, which he frequently displayed for the Gypsies in Bulgaria.
Robert Andrew Scott MacFie photographed in January 1900.
Courtesy of the University of Liverpool Library,
reference number SMGC 1/2 PX Gypsiologist.Macfie.8
After the war MacFie was in poor health. He retired to a cottage in the Yorkshire Dales, and had little active involvement with the running of GLS.
John Sampson and Augustus John
Augustus John had spent much time in Liverpool at the beginning of 20th century. He had taught at the University College and become a life-long friend of Sampson. In spite of his bohemian lifestyle, John served as a Major in the Canadian Army during the First World War, painting the portraits of Canadian infantrymen. There is a fantastic example of his work from this period in the exhibition The Last Bohemian: Augustus John, which is at the Lady Lever Art Gallery until 30 August 2021.
Caricature of John Sampson by Augustus John, about 1931. Pen and black ink on paper.
© the Estate of Augustus John/ Bridgeman Images courtesy of Victoria Museum and Art Gallery
During this time John, Sampson and MacFie met and mixed with English and Welsh Romanies, including Ithal Lee my great grandfather. John also travelled in Europe, meeting Gypsies in France and Italy recording their vocabularies and painting the people and landscapes he encountered.
Sampson died on 9 November 1931. He requested to be cremated and that Ithal Lee carry his ashes to his last resting place on Foel Goch, in North Wales, with Gypsy musicians marching up the mountain. MacFie came out of retirement, and with Gypsy scholar Dora Yates as joint executor of Sampson's will, they ensured his wishes were carried out, against the objections of his family. MacFie suggested that the speaker of the eulogy "should have an imposing presence and a loud voice, and should be an old friend. Augustus John, if he will come, would be exactly the man."
John Sampson's funeral made the front page of the Daily Mirror on 23 November 1931
with the headline 'Gipsy Rites for Romany Scholar'. Courtesy of Reach PLC.
Lee carried his ashes up Foel Goch, where Sampson's son Michael scattered them. John gave the oration in Romanes, which had been written by MacFie. After the ceremony everyone attended the wake – appropriately located at The White Lion at Cerrig-y-drudion. The inn was well known by local Gypsies and famously visited and recorded by George Borrow in his book 'Wild Wales' (1862).
In 1953, at the same inn, the BBC broadcast a program 'Gypsy Days' that included Augustus John, my grandfather (always known as Daisy Lee, although I don't know why), Dora Yates and Brian Vesey Fitzgerald. In this broadcast John reminisced about his contact with Gypsies, but more importantly the broadcast also included the Romanes oration on Foel Goch. In John's recollections, his voice showed his age - hesitant and quavery; in contrast his oration years earlier was well projected, clear and penetrating. It is unlikely this was recorded live at the ceremony, and suggests it was possibly recorded in a studio, and later added to the live broadcast. It appears that this recording is no longer available.
In his will Sampson left all his original paintings by John to his widow. Estimated to be worth £2000 in 1931 they would be equivalent to at least £1million today. He also left his prized 'Smith and Wesson' revolver to John, who was harried by the press about what this meant. John, true to form, brusquely told them it was his business and no one else's. After the ceremony, MacFie wrote:
"I thought the ceremony was impressive. Augustus John was admirable: there was nobody there who could have taken his part or done it half so well."
Photograph of the funeral procession, from the Daily Mirror's front page. Courtesy of Reach PLC
Family connections
After Sampson's death the link between John and the Gypsies continued. Ferdinand Gerard Huth joined the GLS. He was independently wealthy but set up a business dealing in sacks, as a reason to travel extensively and study Gypsies. He wrote several influential articles in JGLS, publishing under the name of 'An Old Member'. Most of what we know about English Gypsy caravans is based on his research. More importantly though, he knew John, Ithal Lee (my great grandfather) and his son William (my grandfather).
John told Huth that he would like to paint my father. Travelling and working in the summer holidays, as we did each year, my father injured an eye in Bristol in 1959 and was unable to work. Huth then contacted John, and told him that my father, Clifford Lee was available as a sitter, thereby linking four generations of the Lee family.
We travelled down to John's house at Fryern Court, outside Fordingbridge, in the New Forest, and John began to paint my father. Already camped there were the travellers, authors and illustrators Dominic and Beshlie Reeves. John would paint my father and Beshlie on alternate days.
My father pointed out to John that when sitting for the portrait, he was not earning any money, but still needed to support his family. John agreed to pay him for the sitting, and wrote him a cheque. My father, handing back the cheque, pointed out that he had no bank account, and that cash would be preferable. John duly obliged and paid him £25. The portrait is now in the National Museum of Wales.
John said he would love to paint my grandfather and me the following year, to capture three generations of Lees. Unfortunately, this did not happen, as my grandfather died in 1960, and John's health was poor and he died soon after in 1961.
The exhibition The Last Bohemian: Augustus John, is at the Lady Lever Art Gallery until 30 August 2021. Open Tuesday to Sunday and Bank Holiday Monday, 10am-6pm.