To Bath and beyond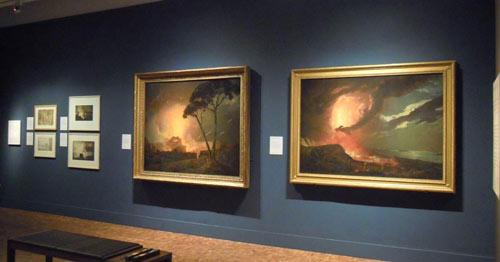 The two paintings from the Walker Art Gallery, 'Death and the old man' on the left and 'The Girandola' in the centre of the photo. National Museums Liverpool
handling and transport technician
Danny John writes about his recent courier trip: "The Holburne Museum in Bath is currently hosting the exhibition
Joseph Wright of Derby: Bath and Beyond
. Two paintings from the Walker Art Gallery's collection
'The Girandola'
and 'Death and the old man' are on loan to the exhibition, so I travelled to Bath with them as the courier. The various roles of the courier include travelling with the work to ensure its safety, making sure the work acclimatises in its crate for the correct duration of time on arrival and also condition checking the work to and from its destination. This involves working with
conservators
to thoroughly check the paintings, using raking light to pick up any problems such as flaking paint or recent cracks either to the frame or painted surface.
I also worked closely with the Holburne Museum technicians and curatorial staff to ensure that the work was hung and displayed to maximum effect. This involved deciding with the head technician the best location for the paintings and what type of brackets and fittings would be the most suitable for the paintings and gallery space. The exhibitions organiser Howard Batho and his staff were delighted to have the two paintings from the Walker, which play a vital part in the narrative of the exhibition, and they were very grateful to National Museums Liverpool for the loan opportunity.
'The Girandola' and 'Vesuvius' reunited in the exhibition The exhibition tells of
Wright of Derby
's time in Bath, including how the paintings 'Girandola' from the Walker Art Gallery and 'Vesuvius' once hung side by side in Bath's 'Royal Crescent' when an associate of Wright of Derby owned them. As you can see in the photo, they are reunited side by side in the exhibition after 250 years apart. The exhibition runs until the 5 May.
The Holburne Museum
and its collection are very impressive and are well worth a visit."