Bats about boats in Norway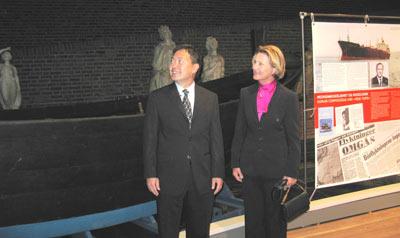 Here's a special report from our curator of port history Ian Murphy, who has just got back from Norway:
---
"I was lucky enough to visit the Norwegian Maritime Museum (Norsk Sjøfartsmuseum) in Oslo last week to attend the opening of their Båtfolk (Boat People) exhibition, which explores the refugee experiences of Norway's Vietnamese communities. I'd been invited as they had loaned a Vietnamese fishing boat from the Maritime History collection at Merseyside Maritime Museum, which was a centrepiece of the display.
The exhibition is part of Norway's Year of Cultural Diversity which is a national initiative, and has been created using the stories and memories of the Vietnamese Norwegians who - as the exhibition puts it - used "the sea as an escape route" in the 1970s and 80s. The exhibition also looks at other uses of boats by refugees, including a display of a boat that was rowed from Norway to Shetland during World War 2, but the main focus is on the experiences of Vietnam's boat people.
I was shown around the museum by senior curator Peder Figenbaum, which gave me a chance to see their excellent displays which cover traditional Norwegian vessels, the country's fishing industry, marine art and a number of interior ship recreations. I never managed to see the museum's 20 minute panoramic film of Norway's coastline unfortunately, which sounds fairly spectacular. After the opening I then travelled across to visit the Bergen Maritime Museum, which is also hosting an associated boat people exhibition.
The exhibition in Oslo runs until August 2009 and is well worth a visit, as is the rest of the museum. I can also recommend taking the train to visit the exhibition in Bergen; it's an eight hour journey, but the scenery is truly stunning."
Update:
We've just received this photograph of our fishing boat receiving two very important visitors. Ian says:
"The exhibition was opened by Norway's Queen Sonja, which indicates the level of importance attached to the exhibition as part of the year long diversity initiative."