Beastly Goings-On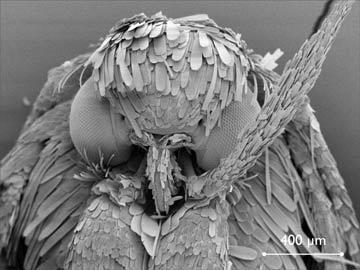 Have you ever wondered what could be eating our museum collections?
 
Although this might seem like a strange question, all kinds of organic materials such as leather, paper, wood and even textiles provide a feast for a variety of troublesome insects!  At the National Conservation Centre we have a range of high-powered microscopes which allow us to look up close at many of these beastly bugs. 
 
Insects such as the clothes moth, seen in the image below, lay their eggs on natural fibres such as wool.  When the clothes moth's eggs hatch into larvae, they feed upon the wool fibres and can cause tremendous damage.  Many other insects would also happily munch or bore their way through all kinds of museum objects if left to their own devices!
 
Why not come down to the Clore Natural History Centre in World Museum next Tuesday 15th March, 2.15pm-4.15pm to find out more.  Two of National Museums Liverpool's conservators will be presenting a series of microscope images and specimens of the curious creepy crawlies that munch on museum objects. Will you be able to guess which bugs do the damage?