Beginners Guide to Paint: Acrylic
Feeling inspired now the John Moores Painting Prize 2020 is over? We spoke to the experts at Windsor and Newton to find out how to choose the right medium for you, the last medium we are looking at is Acrylic!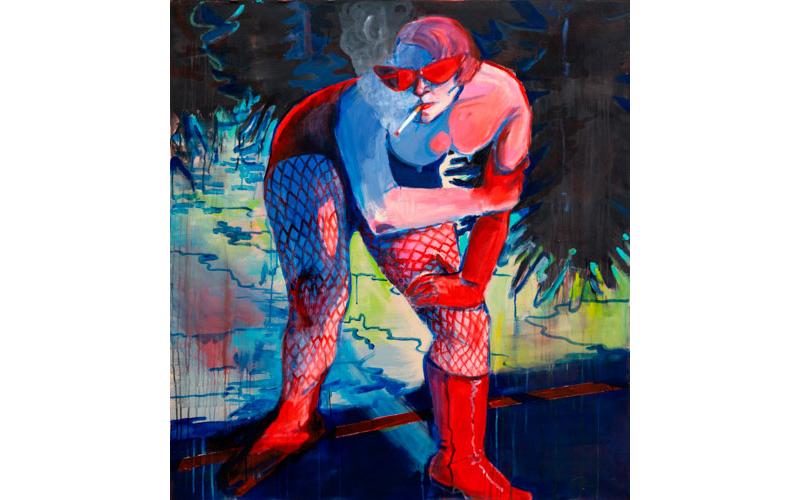 Las, Lass, Laska (Hilary), Noemi S Conan for John Moores Painting Prize 2020
An Introduction to Acrylic paint
A fairly recent addition to the artist's choice of medium, acrylic is a fast-drying, water-based paint which can be used to imitate oil and watercolour finishes or offer unique characteristics of its own. One of the great advantages of acrylic colour is that the strict and complex rules necessary to produce long term stability in oil painting do not exist for acrylics. With oils, oxidation can cause long term dimensional changes; with acrylic's flexibility - durability and water resistance are characteristics of the resin and further modifications by the artist are not required. However, since oils have been used by artists for over 500 years, it is inevitable that other mediums will be compared to it. Attempts to compare acrylics with oil and watercolour have led to many misconceptions regarding acrylic colour itself. This is partly since the final painting may look similar, but the techniques used to achieve it are different. Let's find out if acrylic is the right paint for you.
Acrylic paint's popularity past and present
The first artist acrylics were produced in 1956, and they were immediately popular with artists. Kenneth Noland, John Hoyland and Helen Frankenthaler were among the early enthusiasts who were excited by the possibilities of the bright, fast drying, and non-toxic properties of acrylics. It allowed for greater experimentation and a loosening of painting. Winsor & Newton released their first acrylics in 1970 and launched an expanded Artists' Acrylic range (now called Professional Acrylic Colour)  in 2009. Because of its flexibility, acrylic paint continues to be used by contemporary artists in ever expanding and varying techniques, including artists such as David Hockney, Tauba Auerbach and Katharina Grosse.
What is acrylic paint?
Acrylic paint is a finely balanced dispersion of pigment in an emulsion of acrylic polymer and water. The water serves to keep the emulsion liquid. When exposed to the atmosphere, water in the emulsion evaporates, and the polymer particles organize themselves into a stable, hexagonal structure, trapping the pigment in place. Drying time can be as quick as 15-20 minutes, depending on the thickness of paint used. As with oil, the pigment used still dictates the level of opacity, but with acrylic it doesn't affect drying time noticeably. 
What is meant by professional quality paints?
Most brands will produce a professional range of acrylic alongside a standard alternative. At Winsor & Newton our Professional Acrylic Colour range and Galeria products all use the same or similar finest quality pigments. The Professional Acrylic Colour range uses a higher percentage of pigment and a wider spectrum of colours, but the Galeria range stills offers a high-quality paint at an affordable price. 
Single or mixed pigments?
The best performing colours are formulated using just one pigment dispersed through the binder. Single pigments offer cleaner, brighter, stronger colour with a wider choice of opacity, texture and drying time. Mixed pigments are beneficial for bridging gaps in a colour spectrum due to unavailability of certain historical colours due to economics, toxicity, or ethics. Mixed pigments do involve a certain level of masking, meaning you are closer to ending up with a muddy palette. However, there are instances where colours made from a combination of pigments - known as mixed pigments - prove invaluable, such as William Payne's formulation Payne's Gray, which offers subtle tonal options infused with blue and grey as a slightly softer alternative to black.
Revolutionary Binder
The acrylic binder used in Winsor & Newton's Professional Acrylic Colour range is unique. Other existing binders currently start off milky when wet and then clarify slightly as they dry. This means the colours can darken due to the loss of some of the milkiness. In addition to this if the final dried binder remains slightly milky it masks the true pigment and affects the brilliance of colour. The binder in the Professional Acrylic Colour range is translucent when wet and completely clear when dry. This means that there is no colour shift during drying and the final film allows the brilliance of the pigment to shine through. This is especially useful for colour matching, and reworking paintings.
Core colours 
3 core colours
Winsor Lemon
Alizarin Crimson
French Ultramarine
6 core colours
Winsor Lemon
Cadmium Yellow
Alizarin Crimson
Cadmium Red
French Ultramarine
Burnt Sienna 
Mediums
Mediums can dramatically alter the appearance, texture, viscosity, and drying time of acrylics, and this where they show the most flexibility of all paints. Winsor and Newton mediums also act as an extender whilst maintaining colour brilliance, allowing you to make your paint go further. Gel mediums add body and fluid mediums thin the paint, improving the flow. There is a lot of fun to be had experimenting, here are some key Winsor & Newton mediums. 
Matt/Gloss Mediums – Winsor & Newton acrylic paint dries to a satin finish, but by adding Matt or Gloss mediums, you can alter the reflectiveness to your personal preference without losing colour quality. Available in fluid and gel options to also change the viscosity and flow.
Modelling Paste – A medium for building up texture, it's very flexible so will not crack, increases body, structure and opacity. This is a great option for replicating heavy impasto oil painting with a much quicker drying time. Can be used to build up layers and either overpainted when dry or mixed with colour. 
Slow Drying Medium – This medium increases the drying time of the paint with no colour shift, allowing the artist to create an even covering of large surface areas, to blend and manipulate colours. 
 
Some tips for starting out:
There aren't many hard and fast rules when it comes to acrylic painting, so experiment and use techniques that work for you. The flexibility of acrylic means there are endless possibilities to explore.
Acrylics do not have a detrimental effect on the support, unlike oils. Consequently, acrylics are more easily controlled on a wider variety of surfaces. Using Acrylic Flow Improver, acrylics can be used on unprimed canvas for staining techniques, first used by artists like Morris Louis. This is not possible with oils because the canvas would be stained by the oil bleeding out of the colour. 
Winsor & Newton Professional Acrylic will dry in about 20 minutes, Galeria will dry slightly quicker. The quick-drying allows both glazing and impasto techniques to be completed quickly. The 'dry' nature of the paint also allows scumbling and dry-brush techniques in a way that would be extremely difficult in oils.
The adhesive nature of the binder makes acrylics the ideal media for collage. The colour and mediums will act as adhesives to both paper and fine solids, like pumice or marble dust.
You can thin acrylics with a small amount of water, but too much weakens the stability of the structure, and there may well be colour shifts. It's better to use the correct mediums to maintain the brilliance of the paint.
Once dry, acrylic paint is very difficult to remove, especially from brushes and fabrics, so be prepared with appropriate clothing, and wash while the paint is still wet. 
It is worth investing in good quality materials. Having the right materials and tools means that you will achieve much better results. The high percentage of pigment in professional acrylic ranges means you may end up using less paint as a result.