Behind the scenes at the Maritime Museum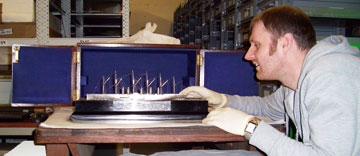 Ben Whittaker with silver model of the SS Great Eastern ship
From Curator of Port History Ben Whittaker:
While working in our museum stores I came across this beautiful silver model of the SS Great Eastern which was presented to Sir James W Paton on behalf of his employees at Paton, Calvert & Co Ltd. It was given to celebrate the company's Golden Jubilee in 1937.  Sir James had a personal connection to the Great Eastern - his father Captain Walter Paton captained the ship, and Sir James was born on the ship in the mid-Atlantic on the 15th January, 1863.
This is just one of thousands of objects in the reserve collections of the Merseyside Maritime Museum.  Like most museums we only have the space to display a small fraction of our collections at any one time. A recent redevelopment at the Maritime Museum saw storage space converted to a new community space for the International Slavery Museum.  Maritime Museum curatorial staff had to pack up a large collection of objects so they could be moved to a new offsite storage space. It's my job along with Assistant Curator Michelle Walsh to gradually unpack these objects, check their condition, photograph them and locate them in new racking and shelving.  It's quite a long process as there are over 2,500 objects in 400 boxes! This is the work of curatorial staff that the public don't see, keep an eye out for future blogs about the interesting and unusual objects we are unpacking and re-storing.