Behind the scenes in the Museum - creating a wash-house display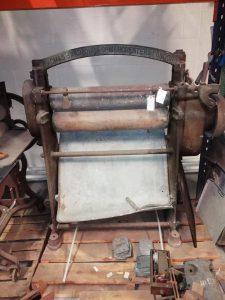 Kerrie McGiveron is the lead researcher on an amazing community-led oral history project 'Hanging Out: The Histories of Liverpool's Laundry Life.'
"As part of my placement working with the Museum of Liverpool, I was invited to the museum stores by Kay Jones, Curator of Urban Community history to view and select items to include in the display. As a PhD researcher, when I'm not conducting oral history interviews I often spend time alone in archives looking at documents or writing at my desk. It was great to be given the opportunity to have a look behind the scenes and to learn about the work put into a museum display.
The first item we viewed was a large mangle which had been used at Christian Street wash-house. The mangle was still in the process of being prepared for display, with the conservators cleaning and waxing it to restore it to its best. Happy that the mangle would be great for the space, we began to look for other items to add.
In oral history interviews I have been recording as part of the wider project for Kitty's Launderette, many respondents talked about the detergents that they used in the washhouses. A common one was 'Lively Polly' – a dry soap used to clean the clothes, which I am reliably informed came out white and gleaming. Kay and I were pleased to find original Lively Polly packages, as well as carbolic soap and other laundry detergents. The packaging instructions depicted a feminine, smiling woman in a full skirt happily using the product. It brought to mind a comment by one of the women interviewed for the project.
The Pivvy' or Pavillion washhouse on Lodge Lane with her sister, said "There was no men there doing the washing – Good God – men then? Doing the washing? No chance.
The soap had been carefully wrapped and preserved in the museum stores, and still had a strong laundry smell, something that many women had recalled about the wash house.
Pauline James recalled her visits as a child with her mother to Lodge Lane,
The smell of carbolic soap, the clanging of the machines and the banging of the pipes."
We were really pleased to find a pram dating from the 1930s. So many women's interviews mention the old Silver Cross prams which would be used to transport the washing to and from the wash house.
Beryl Mottram who loved visiting Fred Robinson Wash-House in Everton recalled,
I used to take my mother's washing on an old pram. Everyone had these horrible old prams – rickety and noisy. I don't think it even had any tyres on – I don't think anyone's did!
I really loved my time in the museum stores. It was great to see first-hand the work that goes into these displays. It was also wonderful to see, and in the case of the detergents, smell, the items that the women I interviewed had been describing."
You will be able to see the display from 22 November.