Behind the Scenes: Setting up the 'Hanging Out' display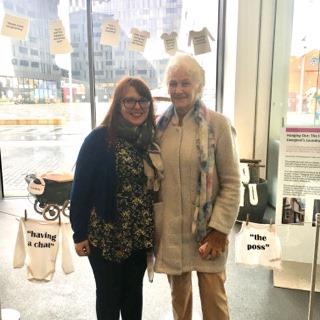 Kerrie McGiveron is lead researcher for the community-led oral history project 'Hanging Out: The Histories of Liverpool's Laundry Life.' This is her final blog post revealing the background secrets of installing our display.
"If you have been following the story of Kitty's Launderette's 'Hanging Out' project, you will know that I have been working for a while with Kay Jones, the curator of urban community history at the Museum of Liverpool to produce a display. The previous blog posts introduced the heritage project and also took a peek behind the scenes as we chose the Museum objects to be included.
Finally the day (22 November) had come for us to put together the display in the atrium of the Museum. Putting together a display involves much more work than you might think! We had to arrange for the conservators to deliver and position the mangle, as well as displaying the items in a way that made sense and worked well for the space. We really wanted to get a feel for wash-houses so that visitors could get an idea of what it might have been like for the people who used them.
First of all we started by creating a 'washing line' on the window with quotes from the participants in the project. This involved stepping back several times to make sure the items were in the correct position – in the end we decided that actually washing blows in the wind – straight items would never be realistic anyway!
After this is was time for the mangle. The conservators had made the mangle its own base and attached the final side panel as it was set up.
We then set to work arranging the objects. This took a while, as we wanted to make sure that all of the items could be seen.
We also erected the information stands (with help from the conservators).
We were very happy with the outcome of the final display. It was a real team effort and I have learned so much from everyone at the museum. As a researcher I was immensely proud to be involved at every step in setting up such a wonderful display, which is dedicated to the people I interviewed. Perhaps the best part of the day was meeting up with May, who is a regular at Kitty's Launderette and was very pleased we had used her quote on the washing, and is particularly delighted with our own modern day wash house.
You can also see a short film featuring historic images of wash-houses, some of the people I interviewed and their memories on the large atrium screens near to the display."