Bequest saves an original Liverpool Overhead Railway signal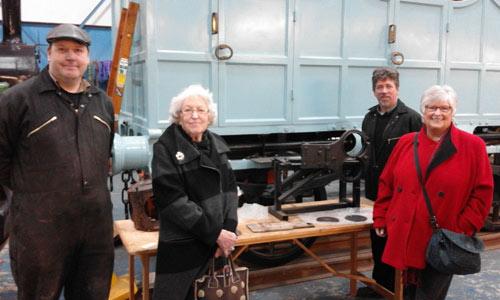 Liverpool Overhead Railway approaching James Street Station. Accession number MOL.2008.97.13 This month we are marking the 60th anniversary of the day that Liverpool Overhead Railway closed, on 30 December 1956. I will be giving a
free talk about the iconic railway and the impact it had on the city
at
2pm on Thursday 15 December 2016
. You can see highlights from our collection in a new online feature:
Liverpool Overhead Railway - the end of the line
. I'm also very pleased to bring you news of a new restoration project. Hidden underground for nearly sixty years, an original wall-mounted signal was one of the few remaining parts of the Liverpool Overhead Railway. It had been in position in the tunnel leading to Dingle Station since the southern extension to the railway opened in 1896 and was part of its innovative signalling system. The tunnel, former home to Roscoe Engineering, had collapsed in 2012 but once clearance work was under way we were able to assess the signal for removal and restoration. It was in a poor condition with moving parts seized and the lamp housing severely corroded. It was going to be a difficult job to remove the signal from the tunnel and expensive to complete the necessary restoration work to put the signal on display in the Museum of Liverpool. In the meantime our Development Office had been in touch to say a bequest had been offered to support a railway-related project - this seemed the perfect fit. Mr Tom Tyson had died in December 2014 and his wife Jenny was keen for funds donated by family and friends following his death to be put to good use, doing something her husband would have enjoyed. The Tyson family generously approved our plans and the signal was removed from the wall of the tunnel by our talented conservators, with lots of skill and even more elbow grease!
Left to right: Dale Riley, conservator, Mrs Rosalie Morgan (Mr Tyson's sister),
Mrs Jenny Tyson and Jonathan Carr, conservator. The restoration project is now underway and Mr Tyson's wife Jenny and his sister Rosalie (pictured) recently visited our workshops to see the work in progress. They were delighted with what they saw and their family have since said how thrilled Tom would have been with the project:
"having grown up in Liverpool, travelled on the Overhead Railway and been a keen railway enthusiast - this is a perfect project to commemorate his life."
We are very grateful for the support of Mr Tyson's family and friends and hope to have the signal on display at the Museum of Liverpool sometime during 2017.