Black balled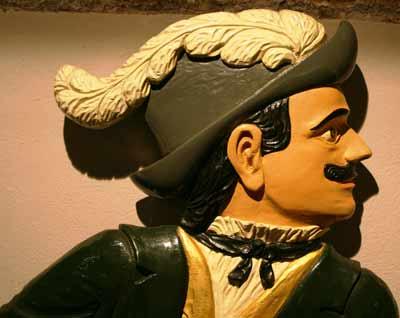 I grow my own rhubarb and am a strong believer in its health-giving properties – as was the great Venetian explorer Marco Polo who is credited with introducing the sweet vegetable to Europe from China. Just simmer the chopped stalks for about 10 minutes in water with a spoonful of sugar, put in a bowl with some of the liquid, add dried mixed fruit, let it cool then add some natural yoghurt – delicious.
Liverpool's initial prosperity was built on the successes of shipping lines with fleets of sailing ships. It took several decades for steam to become the dominant source of power. One of the most successful of all the sailing ship lines was Black Ball with its emigrant packets on the Australia run.
The Black Ball Line was started in 1852 by James Baines of Liverpool. Baines operated a regular service between the port and Australia, principally Melbourne. Black Ball packets were renowned for their fast voyages. The company captured much of the emigrant trade during the Gold Rush years between 1851 and the late 1860s when the Australian state of Victoria dominated world gold output.
The new emigrant gallery at Merseyside Maritime Museum features an exhibition model of the renowned Black Ball ship Marco Polo. Built in 1851, she made record-breaking voyages to Australia. The model shows the ship refitted for the emigrant trade.
Two richly-coloured replica stern carvings from the Marco Polo show him wearing 19th century Western and Eastern dress. In reality, he lived between 1254 and 1324.  One of the life-sized figures (pictured) shows clean-shaven Polo in a green frock coat, plumed hat and black boots. In the other he is bearded and sports traditional Eastern headgear and matching blue, pink and gold gown.
There is a picture model of another Black Ball three-master, Indian Queen, depicted with pennants flying.  The model belonged to Capt John McKirdy, of the Isle of Bute, Scotland, master of the ship 1854 – 5.
A fearsome Bowie knife is inscribed with the name of the infamous Black Ball Capt James Nichol Forbes. He was known as "Bully Forbes" because of his harsh treatment of both passengers and crews.
A major competitor of Black Ball was Pilkington and Wilson's White Star Line (predecessor of the later Titanic line). The White Star was an emigrant sailing ship between Liverpool and Melbourne. A pair of binoculars, dating from about 1860, came from the White Star when Captain T Kerr was in command.
A new Maritime Tale by Stephen Guy appears every Saturday in the Liverpool Echo. A paperback – Mersey Maritime Tales (£3.99) – is available from the museum, newsagents, bookshops or from the Mersey Shop website (£1.50 p&p UK).