Black Germans and the Holocaust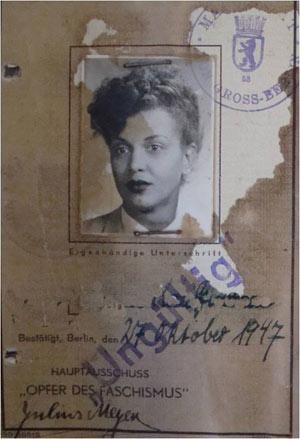 The International Slavery Museum will be marking Holocaust Memorial Day on Tuesday 27 January 2015 with a
special free guest lecture
by Professor Eve Rosenhaft from the University of Liverpool, who will be talking about the experiences of the Black German community during the Holocaust. Eve tells us more: "When Hitler came to power in 1933, there were a several thousand people of African descent in Germany. They included African Americans, African-Caribbean and Africans passing through, working or recently settled, but the core of Germany's Black community was made up of men from Germany's former colonies – East Africa, Togo, and especially Cameroon – with their German-born wives and 'mixed-race' children. This talk focuses on those families. While Hitler was still hoping to recover colonies in Africa, the Nazis hoped to make use of them for political propaganda. But 'mixed' families represented a particular challenge to Nazi racial policies, and in the long run they suffered exclusion, harassment, internment, and compulsory sterilisation. At the same time people's experiences were varied and sometimes adventurous. Most individuals survived in Germany or as emigrants, thanks to support from other members of the community and from their families, though the community itself came out of World War II largely broken and scattered. For example, one of the people I will be talking about will be the African-German woman pictured here. This is a document from Berlin that identifies the bearer as a victim of Nazi persecution.  These were issued after World War II in many parts of Germany and entitled the bearer to claim certain benefits. Tracing the histories of these ordinary people in extraordinary times has involved research in Cameroonian, German, French, Russian, British, American, and Dutch archives over nearly ten years. Their personal stories have been pieced together from memoirs, interviews and official documents. They give us a new perspective not only on the nature of the Nazi regime and the Holocaust but also on how a Black Europe might have looked in the mid-20th century had it not been for Hitler's racial crusade."
Black Germans and the Holocaust
,
2pm, Tuesday 27 January 2015
 in the
Martin Luther King Jr building
(the former Dock Traffic Office building opposite the Pump House in the Albert Dock). This is a free talk, all are welcome.