Building Britannia: behind the scenes at the Museum of Liverpool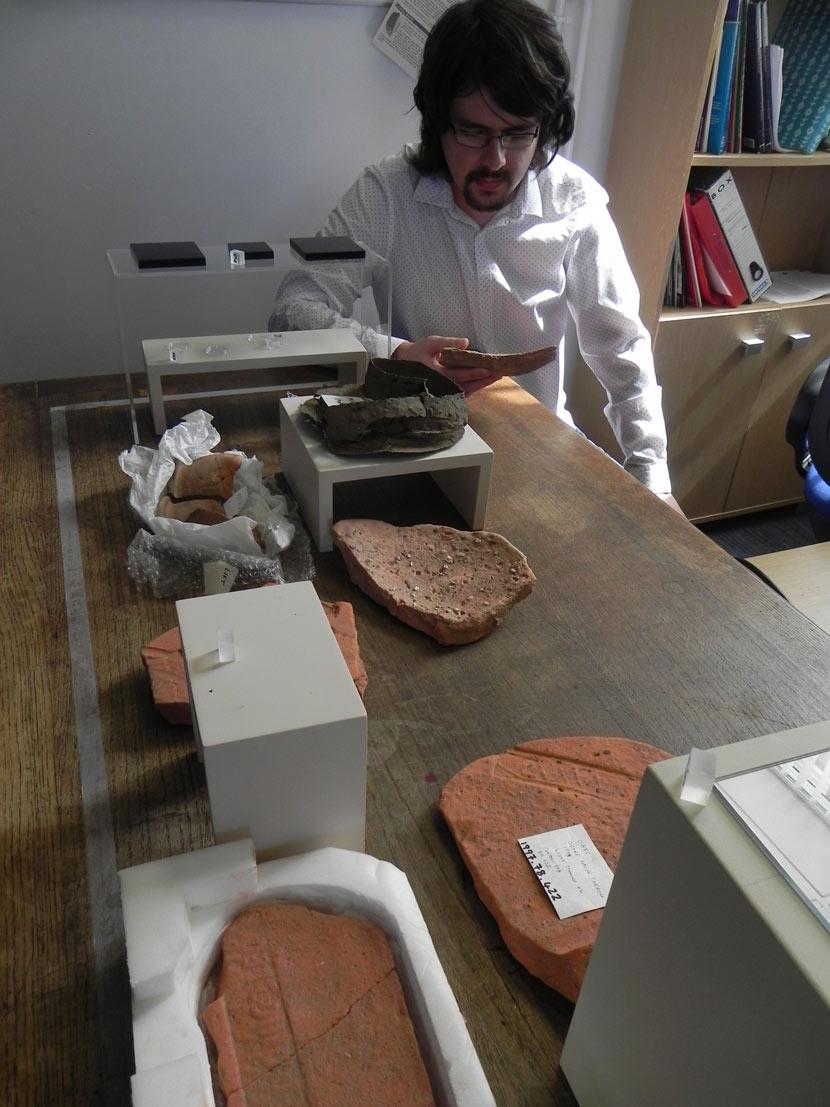 Luke selecting objects for display from the stores Today we have a guest blog by Luke Daly-Groves. Luke is currently studying a PhD on Anglo-American intelligence relations in occupied Germany at the University of Leeds: "For five weeks I have been working with the team of
archaeologists at the Museum of Liverpool
as part of a placement, in order to create a display about the Romans in Merseyside. My interest in Roman history was sparked by tales of Emperors and Empire, travels around ancient sites throughout Europe, and the works of Professor Dame Mary Beard. But studying the Romans is not all about those at the top but also about revealing something of the lives of ordinary people. This is why archaeology is so important. Here in Liverpool, the smallest fragment of Roman tile is bagged and recorded because it may provide vital evidence. Context, in archaeology, as in history, is key. The North West was in the past considered to be an area devoid of Roman archaeology. I certainly had no idea of any Roman presence here prior to my work at the museum!  I will never forget my first visit to the museum store rooms. This Aladdin's cave of history is every historian and Indiana Jones fan's dream. Countless shelves of boxes, all shapes and sizes, fill the massive space. These store rooms are to the archaeologist what the archive is to the historian. A key difference is that archaeologists here undertake the role of both archivist and researcher, picking their own boxes and cataloguing their own items. It was refreshing to pick my own boxes, like ordering from a sort of historical vending machine!
Luke laying out selected Roman finds Having chosen my objects, measured out the size of my display case and made a temporary mock up I realised that not everything I picked would fit. Here is another similarity between historians and archaeologists: the limits of word count are the same as those of display space. The trick is to balance both, so they complement each other. This can sometimes be difficult for scholars who want to tell a story. But it is also rewarding to produce something accessible to all. Nothing can quite describe just what it is like to hold something, almost two thousand years old, which a Romano-Briton in Liverpool would have held. The museum is not just helping to spread knowledge of the past to the general public; the general public are sharing their knowledge with the museum too!
Britannia Inferior? A Glimpse of Life Around Roman Merseyside
will be on display in on the first floor of the Museum of Liverpool during November 2018."