Captain Johnnie Walker - hero of the Second World War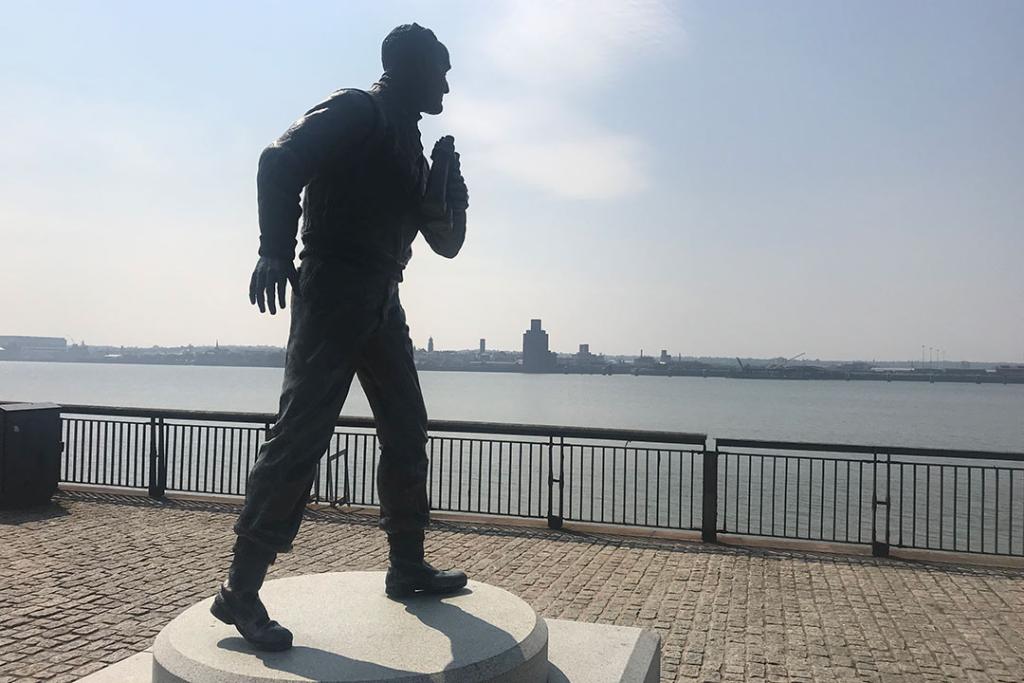 In uncertain times, when we all feel at least a little lost and anxious, it is sometimes comforting to look back to previous occasions when we have faced significant tests - to see that we have the strength to come through. The worst situations can see heroes emerge.
One such figure, central to Liverpool's maritime story, is Captain Frederic John 'Johnnie' Walker.  Although not a native son of the city (having been born in Plymouth in 1896) he has been taken to our hearts as the hero of the Battle of the Atlantic during the Second World War - and he is certainly a hero of mine.  
Walker's early career
Having served in the First World War, he became one of the first volunteers to train at the newly-formed anti-submarine school in Portland, Dorset. This was a particularly unfashionable area of seafaring at the time but one which would become of vital importance to Britain in the coming years and would see Walker display his ingenuity, bravery and brilliance.
Unbelievably, at the start of hostilities in 1939, Walker was being earmarked for early retirement! However, luckily for us all, he was given command of HMS Stork in 1941, part of the 36th Escort Group guarding convoys of merchant ships crossing the Atlantic: a vital lifeline for our country and one which had to be maintained or risk starvation or surrender.  It was this new posting which forged his connection to Liverpool.
Western Approaches Command
Liverpool was home to the Western Approaches Command in Exchange Flags in the city centre, where the Royal Navy, Royal Air Force and Royal Marines were based. Enemy activity in the Atlantic Ocean was constantly monitored, helping to protect the convoys on their perilous journey to Britain - on average four per week were arriving in the Mersey.
Back in 2013, during the Battle of the Atlantic 70th anniversary commemorations, I was lucky enough to be involved in filming in this building for a local BBC programme.  If you don't believe that bricks and mortar can have a heartbeat and a soul, then I certainly do. 
Protecting the convoys
Convoy of ships in Captain Walker's Second Escort Group, from the deck of HMS Wren. Photograph by Dr Canti, Surgeon Lieutenant RNVR.
During his time with the 36th Escort Group, Walker showed his unconventional but successful methods of dealing with the U-boat threat. He was charged, first and foremost, with simply escorting ships in the convoy but he saw that the most effective strategy was to take the attack to the enemy. His first convoy was HG76 (a group of 32 ships travelling homeward from Gibraltar) and in the course of this voyage, a total of five U-boats were sunk!  
In 1943, longing for another seagoing command after a period based ashore, he was given command of the Second Support Group consisting of six ships including his own, HMS Starling. His idea of taking the battle to the enemy had now been adopted by the Commander-in-Chief of Western Approaches, Admiral Sir Max Horton, and the Support Groups were no longer confined to escort duties but could actively hunt down submarines.
Captain Walker's Second Escort Group. Photograph by Dr Canti, Surgeon Lieutenant RNVR.
Sinking U-boats
Throughout 1943 and 1944, Walker and his loyal crews repeatedly put themselves in harm's way, doggedly pursuing their targets and eventually sinking 15 enemy craft. A significant engagement came in July 1943 when, in the Bay of Biscay, Walker ordered the signal 'General Chase', permitting the ships to abandon their positions and pursue the enemy. This was only the third time such an order had ever been given, putting Captain Walker in the same ranks as Sir Francis Drake and Horatio Nelson!
That November their group sank six U-boats in one patrol. When they returned to Liverpool, the quaysides of their base in Gladstone Dock, Bootle, were crowded with rows of merchant seamen, WRENS, escort crews and dock workers cheering and waving.  There must have been a wonderful atmosphere and I wish I could go back in time to experience it for myself.
HMS Wren, part of Captain Walker's Second Escort Group, hunting U-boats. Photograph by Dr Canti, Surgeon Lieutenant RNVR.
The end of Walker's war
In 1944 came the infamous D-Day landings in Normandy and, as it turned out, Walker's last contribution to the war effort. For two weeks, he helped to protect all ships heading to France – not one U-boat made it past his vessels. His work was constant and the strain never-ending; he took no rest or respite and knew that the war had cost him his son, Timothy. Shortly after returning home from this mission, it all became too much for his body to take and on 9 July Captain 'Johnnie' Walker died aged only 48.  To his crewmates and officers, alarmed at the change in him towards the end, he had looked a much older man.
His funeral was attended by 1000 people and his coffin was taken through the streets of Liverpool, down to the river where HMS Hesperus was waiting to take him back to the sea one last time – to his final resting place in Liverpool Bay.
The ultimate sailor had made the ultimate sacrifice for us all and asked nothing in return; the true embodiment of the word 'hero'.
Photos from the Battle of the Atlantic
The Maritime Museum has a gallery dedicated to Liverpool's vital contribution to the Battle of the Atlantic, featuring a wonderful collection of items linked to Captain Walker and the ships under his command.
This film, which you also can see in the Battle of the Atlantic gallery at  the museum, recounts the experiences of Doctor Gordon Canti, on board HMS Wren (U28), which was part of Captain Walker's Second Escort Group. Dr Canti, Surgeon Lieutenant RNVR, was medical officer aboard HMS Wren from May 1943 to September 1944. The film includes rare photographs that Dr Canti took while on board, which he donated to the Archives Centre in 2009, some of which are featured on this page.