The carousel of theory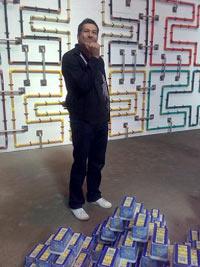 Hello there. Well today I am going to speak about interpretation and art (bear with me here). There were many difficult decisions taken whilst planning the International Slavery Museum, some on the design of the building, the way we displayed exhibits and indeed the content. It was challenging but at the same time exciting and satisfying to think you can shape such an important project.
I believe that on the whole we made the right decisions when planning the International Slavery Museum. I also agree with people who contact me about the content, and say that there is room for expansion in some areas as well as the need for myself, and my team, to be receptive to new information, and indeed revise information due to new research or new methods of interpretation. Interpretation is big news in the museum world. The forthcoming Museums Association Conference will be laden with it.
Interpretation in museums was something I covered when I studied Archaeological Theory at the University of Liverpool (the word theory often made some of the undergrads recoil in horror) focusing on how communities engaged with their local and national heritage and indeed how they viewed and interpreted the past. As part of my research I spent many hours in the former Transatlantic Slavery Gallery. In fact I sent the odd enquiry about certain exhibits to people who are now my colleagues.
As well as working with Black communities here in the UK I also spent time in the United States focusing on the way African American communities engaged with local archaeological projects. From New York, where I visited the African Burial Ground to Ransom Place in Indianapolis. I also went over to Nevada which meant I spent three days on the California Zephyr. A great way to see the country and meet some characters. There is no substitute from visiting somewhere so that you can experience it for yourself.
So here is the arty bit! My artistic side was awakened this weekend when I went to see some of the installations which are part of the Liverpool Biennial. I live in the city centre and whilst walking past what I thought was a derelict warehouse I saw a carousel, yes, I did say carousel. I like to think of myself as an art aficionado (no laughing please) so I went to take a look inside. I ended up signing a waiver to have a quick ride on it! It was the work of an Argentinean artist which was 'an artistic question about the constancy of everyday life'. Just what I thought (honest) whilst sitting in an armchair, going round on a carousel in a warehouse. There were a number of other installations too. I was particularly taken by the margarine tubs. I love the idea of art being open to the masses so have a look round the city; you never know what you will stumble across.
Bye for now.