Caught by the Wolf: remembering the SS Matheran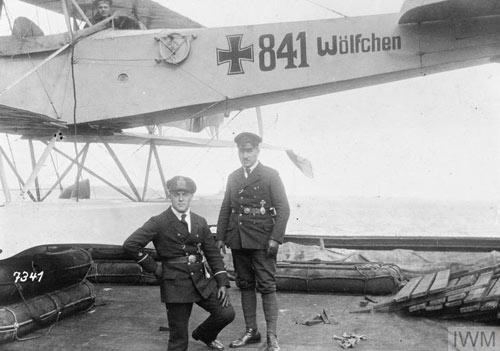 Prisoners on the deck of SMS Wolf. © IWM (Q 53085) In today's Times newspaper, there is a small but poignant notice:
"BOY ABDUL, Indian Merchant Service. Sole casualty, SS Matheran, Brocklebank Line, Liverpool, Captain Maurice Addy. Sunk by a mine off Cape Town, SA, 26 January 1917. Remembered today on the Seamen's Memorial in Mumbai and by his Captain's family."
100 years ago today, the Liverpool ship SS Matheran was sunk by a mine laid by one of Germany's most notorious ships - the SMS Wolf. SS Matheran was one of nine ships, owned by the Liverpool based Brocklebank Line, that were lost in the First World War. The Matheran struck a mine laid by SMS Wolf off the coast of South Africa. The one life tragically lost in the sinking was that of Abdul, the young cabin boy on board.
Captain Maurice Addy, Master of the SS Matheran Maurice Davies is the grandson of Captain Maurice Addy, master of the SS Matheran in 1917. He recalls:
"My grandfather died in 1938 and I was not born until 1943 so I never knew him but, being brought up on the Wirral and in North Wales, I was always aware of him and of his career at sea, particularly the sinking of SS Matheran. Having the lifeboat plates "SS MATHERAN" and "LIVERPOOL" in my bedroom added to the interest. Reports say that the ship sank in 6 minutes from the second explosion. Abdul must have been trapped somewhere in the ship. I know from my grandmother and from my mother that my grandfather was greatly troubled by his loss so we, as the current family, felt it would be appropriate to mark the centenary of this event, small though it is in the context of the overall losses suffered by Merseyside in the two World Wars."
SMS Wolf was a merchant vessel requisitioned by the German Navy, fitted out as a cruiser armed with guns, torpedoes and mines. She operated as a commerce raider, attacking and sinking Allied freighters, and capturing their cargo and men. The Wolf had a small biplane on deck that was used for reconnaissance, nicknamed the 'Wolfchen' or Little Wolf.
The Little wolf biplane on the deck of SMS wolf. © IWM (Q 54433) In a 16 month cruise spanning 1916-1918, the Wolf captured and sank at least 14 ships, and sank around 13 more with mines, including the SS Matheran. The ship and crew returned to a heroes' welcome in Germany with valuable cargo for the war effort such as rubber and metals, and 467 prisoners of war. Many lives were lost at sea due to the mines laid by SMS Wolf. Today, we remember one of them from a Liverpool ship – Abdul from the SS Matheran.