Celebrating Merseystyle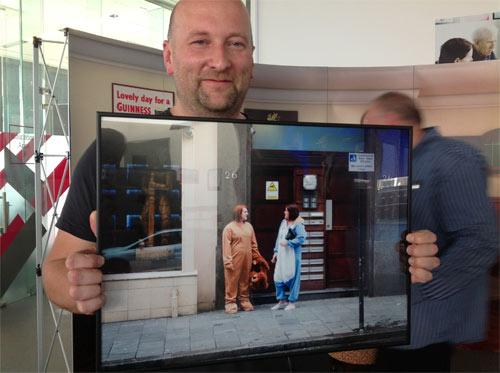 Jan from the Caravan Gallery presenting Cassie Hodge, one of the Merseystyle competition winners, with a framed print and certificate The Caravan Gallery's
Merseystyle exhibition
closes this Sunday, 27 October, after delighting and amusing many visitors to the Museum of Liverpool. To mark the end of the exhibition Jan and Chris, the inquisitive photographers behind the
The Caravan Gallery
, held a celebration event at the Museum of Liverpool to thank the many people who have been involved in the exhibition and the many associated events over the summer. These have including
a mini tour
that saw the caravan rolling up at locations from Speke to West Kirby, plus two
Pride of Place projects
in Liverpool and New Brighton. Saturday's event was also an opportunity to present the five winners of the
Merseystyle photography competition
with framed prints of their winning photos.
James Malone, one of the Merseystyle competition winners, holding his framed print next to Chris from the Caravan Gallery After greeting everyone with a cuppa and cake, Jan and Chris gave a short and revealing talk about the exhibition. Apparently choosing the title was one of the hardest decisions and the final choice may have been subconsciously influenced by
Gangnam Style
, although thankfully without the dance. They also talked about a about the history of the Caravan Gallery, which they set up in order to take exhibitions out to people who might not usually go to see one. Since then the caravan has been driven thousands of miles across the UK and Europe, and has even been shipped over to Japan. Everywhere that they have travelled has been well documented in their photographs, with a keen eye for detail and a sense of honesty and fun that have become their trademarks. Jan spoke about how many of the scenes that they have photographed have since changed, which shows the importance of capturing them while you can. This sense of the importance of documenting a changing environment is shared by one of the competition winners
James Malone
, who I chatted to afterwards. He had the foresight to take photographs of Liverpool's
Welsh Streets
before the bulldozers moved in. The last remaining resident of one of the streets took advantage of the empty neighbouring houses and hung her washing out across their facades – a sight of domesticity against the odds that James captured in his photograph 'Hung out to dry'.
Richard Cooper, one of the Merseystyle competition winners, with his framed print New Brighton artists
Frank Lund and Major Mace
also came in to see the Caravan Gallery's photo of their famous creation,
New Brighton's driftwood pirate ship the 'Black Pearl'
. They were pleased to see it printed so large in the exhibition and gave it an approving pirate "Arrr!" There are more photographs from Saturday's event in our
Merseystyle set on Flickr
. And don't forget there's just a few days left to see the
Merseystyle exhibition
, including the
five competition winners
, before it closes on Sunday.