Charles Lightoller, a Lancashire lad who went to sea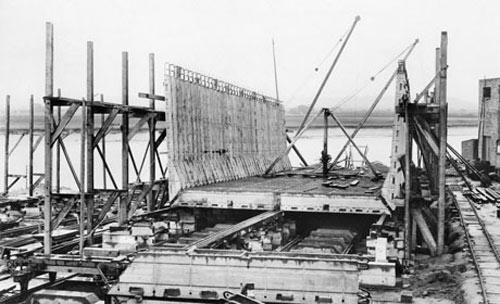 Concrete ship under construction in Warrington, image courtesy of English Heritage Merseyside Maritime Museum's
series of free spring lectures
starts tomorrow, Wednesday 7 May, at 12 noon, with a talk by 
Serena Cant, English Heritage. Serena will be talking about the front line at sea, and in particular the contribution of the ships and the people of the north west coast to the First World War. In this guest blog post she discusses the wartime service of  Charles Lightoller:
"Charles Lightoller, a Lancashire lad who went to sea, was one of at least two known survivors of the
Titanic,
both of whom survived further wreck incidents during the Great War, as it was called by contemporaries. Following the loss of the Titanic, in 1913 Lightoller rejoined the Oceanic, her sister ship, upon which he had served earlier in his career. Both ships and men were forced to adapt to the conditions of war. Civilian ships were turned over for warlike purposes: Oceanic was requisitioned as an armed merchant cruiser, and Lightoller likewise became part of the Royal Naval Reserve aboard the ship. Oceanic too was wrecked when she struck the Shaalds of Hoevdi Grund, Foula in the early stages of the war in 1914,
recorded here on the Canmore database,
which records shipwrecks in Scotland in a very similar way to those in English waters on the PastScape database of English Heritage. His wartime career encompassed at least two more wrecks in the closing stages of the war, both on the north-east coast. As commander of
HMS Falcon,
he was aboard when she sank after a collision in fog with the armed trawler John Fitzgerald off Flamborough Head in April 1918, but with no loss of life. Her stern section has been located and identified by her name inscribed on interior fittings, and, broken in two, she stands a mute testimony to the effects of the collision in which she was lost. In July 1918 Lightoller, in his new command HMS Garry, was the cause of, rather than the survivor of, a wreck: a nearby patrol vessel spotted the periscope of
UB-110
which was preparing to attack a convoy off Yorkshire. The convoy's escorts zoomed to the U-boat's position and depth-charged her: as she struggled to the surface, she was then rammed by the Garry. The position of her sinking is recorded, although it seems that she was raised and broken up shortly before the end of the war: some archaeological evidence may yet remain on the seabed. Lightoller also went to sea during the Second World War, but that, as they say, is another story. Shipwrecks were an occupational hazard in times of peace and war: what is unusual about Lightoller is that his high profile following the loss of the Titanic makes his career and involvement in further wreck events more visible."