The City of Benares legacy 75 years on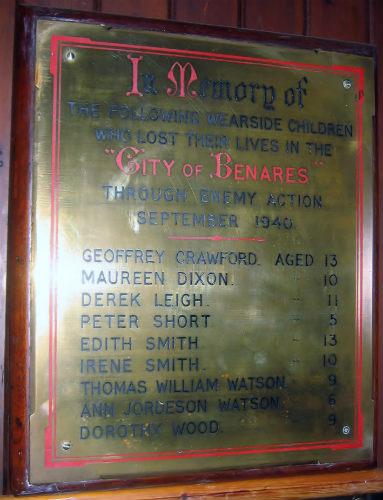 City of Benares survivor John Baker holding a copy of his local paper in which he was interviewed. Picture taken on his recent visit to the Maritime Museum.
One of the great things about working on projects around events within living memory is that often they prompt people to come forward and talk about their own experiences or family story. At a 75 year remove, with most of the children not from the local area, I wasn't sure how much impact our City of Benares feature would have in this respect but I was pleasantly surprised. Some people got in touch to say they'd known or knew people who had been on board, a representative of the Sunderland Volunteer Life Brigade (SVLB) made contact to say they were marking the 75th anniversary with a service and small display, and one of the child survivors even turned up at the Maritime Museum for a chat. 
At 7 years old John Baker was the youngest survivor of the sinking. His brother Bobby (12) sadly did not survive. John had not been back to Liverpool since sailing out on the City of Benares in 1940. However he told us he had decided, just a few days before the anniversary, that this year he wanted to return to the city. Now in his 80s, it was clear that the sinking was still a difficult thing for him to remember, especially the loss of his brother who gave John his own lifejacket after he reached the deck of the ship without one.
Having spent so long researching this tragedy I decided to attend the memorial service organised by the SVLB and see the display they had put together. At the service was Billy Short, one of two surviving Sunderland children. Like John, Billy lost his brother, 5 year old Peter. Also present was a cousin of another of the Sunderland children, George Crawford. George, 13 years old and a keen boy scout, bravely pulled another boy, 10 year old Louis Walder, into a lifeboat, but in doing so fell out himself. In that same lifeboat escort Michael Rennie lost his life after diving repeatedly to rescue children from the water and his nephew David also attended the service.
I met a gentleman who had, along with his brother, been down to sail on the City of Benares, but missed the boat and instead sailed on the very last CORB ship, the Nova Scotia. This vessel had a close brush of its own when U-boats sank several other ships in their convoy. The gentleman remembered being ordered to their lifeboat stations during the attack, but thankfully the Nova Scotia was more fortunate than the Benares and arrived safely in Canada. Speaking to these people, seeing Billy Short with his wife and daughter, grandchildren and great-grandchildren, hearing John Baker still struggle to talk about his brother, and seeing some of the relatives of those who were lost attending these services 75 years on, it is clear that the sinking was not the end of the story. Events like this leave a legacy, for the survivors and relatives alike. What is so fascinating, and often poignant, about hearing people today talk about historic events, is not just hearing what happened at the time but how it fit in to or shaped the wider events of their later lives.
Lead image: Memorial plaque commemorating the 9 Sunderland children who died in the sinking of the City of Benares, 17 September 1940. Plaque located in Sunderland Volunteer Life Brigade Headquarters.