Cocoa, mango and the generous Trini spirit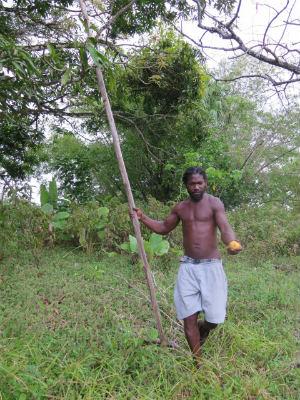 Doux-doux - the sweetest of mangos - though Trinidad has a huge variety of mangos, and everyone has their own preference, often hotly contested. This is the second blog in the series from Joanna Ostapkowicz, curator of the Americas collection at World Museum.
"Day 1: Cocoa, mango and the generous Trini spirit: Herbarium collecting in Eastern Trinidad
Overcast days are a blessing when fieldworking in Trinidad - and indeed any part of the Caribbean: the heat and humidity can knock even the locals back. I was grateful for the cloud cover on our first day out - it helped somewhat to acclimatise - but that did nothing for the mosquitos, which hovered behind us, patiently waiting for a bite. We had set out for the eastern region of Trinidad, centred around Sangre Grande - the Spanish name harkening back to the early colonial (16th century) history of the island.  Our team consisted of Mrs. Yasmin Baksh-Comeau, Curator of the National Herbarium at the University of West Indies, Mr Harris Sooklal of the local Forestry division and Mr Jameel Mohammed, the invaluable driver who over the course of the week developed an adept hand at herbarium collecting.
Safraz and Yasmin consulting the geological map. Our guide for sampling was a detailed geological map of the island - we based our stops on sampling within as many of the different geological regions as we could. Plants growing within these regions will have different strontium values, and so we wanted to ensure that each was documented through samples. In Tamana, we were also joined by forestry officer Mr Safraz Ali, who coordinated our schedule with the regional forestry offices over the course of the week - so we benefitted from the invaluable local knowledge of colleagues who had years - often decades - of forestry experience.
Harris using a bamboo to get a herbarium sample from a tall Andira sp. Working with these officers was both a privilege and pleasure - their ability to identify specific species at a glance, in what seemed to me a uniformly green 'forest-scape' never ceased to amaze.  Nor their creative abilities in getting herbarium specimens from trees nearly 100 feet in height, with the lowest branches some 30 feet above ground.  Harris was a master at this: all he needed was a large section of bamboo, which fortunately grew by the roads in huge clusters - and with a couple swipes of his machete, he fashioned a handy pick that, balanced carefully in his hands, could extract a specimen from a significant height. Beyond the extraordinary diversity of plant life we encountered - there were other perks, specifically the wealth of available fruits and other delicacies, growing 'wild' (many introduced during the early colonial era): fresh cocoa was a revelation, with a sweet, subtle taste that had no connection to the chocolate sold on the high street. But who needs processed chocolate when you have the sweetest of mangos - the local doux-doux (literarily, 'sweet-sweet').
Fresh 'wild' cocoa At the end of a long day of collecting, the mangos were generously provided by Mr Kerry Rivers who also allowed us to sample the only
Platymiscium
sp. (common name: Roble) we found in this region, a tree originally planted by his mother on their property and now reaching over 70 feet in height. This was but one example of the warmth and generosity encountered during the course of our work - and was not only a wonderful introduction to fieldwork on the island, but to the people of Trinidad." We look forward to the next update from Joanna on her experiences as she travels across Trinidad.
Mr Kerry Rivers, offering a freshly picked mango from his garden.