Conservation Technologies are the champions!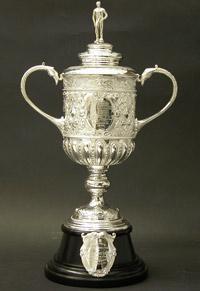 Football seems to be a bit of a touchy subject today for some reason. So here's a story about a major trophy that isn't in any danger of leaving England, in case that cheers up a few football fans out there.
In 2005 the oldest surviving FA Cup (produced in 1896 after the original trophy was stolen) was up for auction and in danger of going overseas. Luckily businessman David Gold, director of Gold Group International and chairman of Birmingham City Football Club, saved it for the nation and gave it to the National Football Museum in Preston on a long term loan basis, so that it could be seen and enjoyed by all football fans.
At the invitation of the National Football Museum, he then commissioned Conservation Technologies to produce an accurate replica of the trophy for his private use. They worked with silversmiths BDG Manufacturing Ltd and the Jewellery Industry Innovation Centre to produce the replica shown here, using a combination of cutting edge laser scanning technology and traditional skills.
David Gold was delighted with his replica trophy and the National Football Museum is 'over the moon' with the original. Find out more in a case study about how the FA Cup was replicated on the Conservation Technologies website.