Conservators make Blitz survivor rise again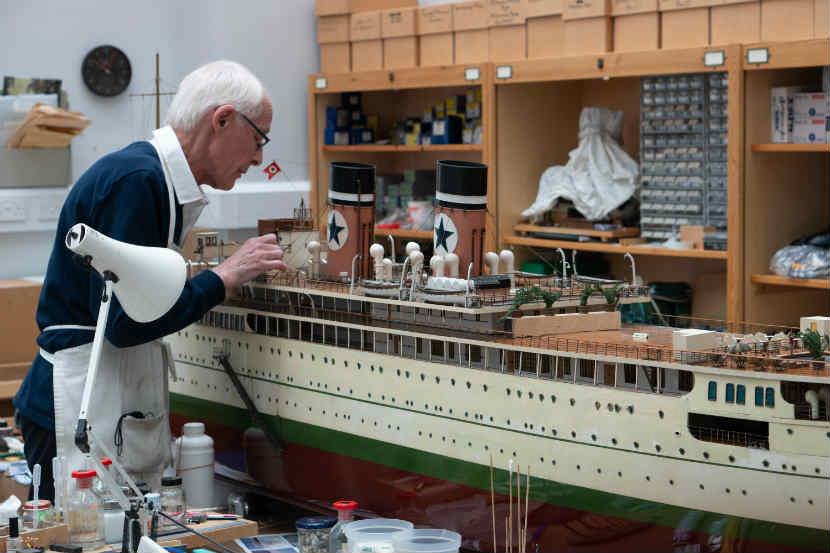 Here at National Museums Liverpool we're lucky to be the keepers of some long held collections. The Maritime Museum may only have opened its doors in 1986 but our collection goes back much further than that. In fact the Maritime Museum grew out of the old Liverpool Museum (now known as World Museum).
A collection this old and vast always has more surprises waiting for us and sometimes an object's history with the museum can be just as exciting as its time before it joined us. Our museums and galleries have led some pretty exciting lives themselves, especially the older ones, and of all of them the World Museum has been welcoming visitors through its doors for the longest. The building's got a fascinating history and so have the collections it has housed, including many of the older ship models in the Maritime collections.
One of these models is the 3.5 metre long, Arandora Star. A beautiful model once used in a travel agents to promote the idea of a luxury cruise with the Blue Star shipping line. She even has tiny people relaxing beside a miniature swimming pool. It was this presentation of glamorous travel that drew us to include her in our Life on Board gallery, but when we chose her we knew it might not be easy to bring her out on display.
Arandora Star prior to conservation work, you can clearly see the cracking and discolouration
We weren't sure if Arandora Star had ever been displayed before, there were no records of her being in past maritime exhibitions, and the model itself was in quite poor condition. Once our model conservators looked at her they said she would not have been displayed in her current state, which showed clearly historic damage, particularly water damage that we didn't know the cause of. It wasn't until I went digging through the older paper files, going right back to when she was first acquired by Liverpool Museum in 1940, (just weeks after the real Arandora Star was sunk by a U-boat attack), that her story began to take shape. Letters from the Museum director to Blue Star Line thanked them for their donation and said that:
…the model was transferred with the least possible delay, so that it was before the public while the full tale of the sinking was fresh in mind. It has proved one of the greatest attractions of recent years, and each Sunday afternoon there has been a crowd two or three deep all round it.
This letter was dated 25 July 1940. Suddenly it all started to make sense, and the water damage seemed a very significant clue as to the model's history. In 1940 the shipping gallery where the models were displayed was based in Liverpool Museum, in part of the lower horseshoe gallery.
Concerns over bombing raids had led to many of the museum collections being evacuated during the war, both to a bank vault within the city and out of Liverpool altogether to North Wales. This latter destination led to the lovely comment that the museum had:
sent most of the little ships to that haven alleged to be every sailor's goal – a home in the depths of the country.
There were still exhibitions on display however and some objects had been moved into the museum's basement for increased protection. Liverpool would emerge as the most heavily bombed city outside of London in the Second World War and concerns for the safety of the museum collections were sadly well founded.
Fire damage to the north side of the lower horseshoe gallery.
You can see the destruction has ripped away parts of the floor and ceiling on this side of the building.
On 3 May 1941 a bomb hit Liverpool's Central Library, next door to the museum. Fire took hold quickly and spread fast, despite heroic efforts to bring it under control. In a piece of particularly bitter irony the fire travelled down a ventilation shaft and ripped through the basement, destroying collections that had been moved down there in hopes of keeping them safe.
Proving though that we are not just an old museums service but also a resilient one, just three months later in August 1941 our then Director was already looking to the future.
Liverpool Museum will rise again – not the old museum but a new one…striving to fill an even worthier place in the life and affections of Merseyside…When peace returns, broken men and shattered homes will not be forgotten, but when their prior needs are met, thought and service must be given to the reinstallation of the temples of the spirit without which there can be no life.
The Shipping Gallery on the south side of the lower horseshoe where the Arandora Star would have been displayed.
In better condition than the north side but you can see the water damage on the ceiling.
So many things had been lost that night in May, but the shipping gallery had been comparatively fortunate. Some models that had been stored in the basement were lost but those in the gallery itself escaped the fire, instead suffering serious damage from water from the fire hoses. Arandora Star's water damage was finally explained and, like Liverpool Museum, it was time for her to rise again.
The Arandora Star following her 400 hours of conservation
A little investigative work and consultation with our conservators had given us a whole new story to the Arandora Star, the story of a Blitz survivor that we very nearly lost. Too badly damaged to go back out on display, she's not been seen by the public in almost 80 years, but following more than 400 hours of work from our brilliant models conservators she has been transformed and is now one of the star objects in our Life on Board gallery.
This model's story has really highlighted both the importance of museum records and of our conservation teams. We could only find her history through the record keeping of our museum predecessors, and we could only bring Arandora Star back to the public with the aid of hours of careful, skilled conservation. The Blitz may have nearly destroyed her, but our conservators have saved her for a whole new generation. I just hope she can draw 'crowds two or three deep' all over again.