In conversation - Hannah Brown and Leah Cayol
We talked to Hannah Brown (Teacher at Central St Martins) and Leah Cayol (Student at Central St Martins) about their connection and how they feel about being in the John Moores Painting Prize 2020 Exhibition.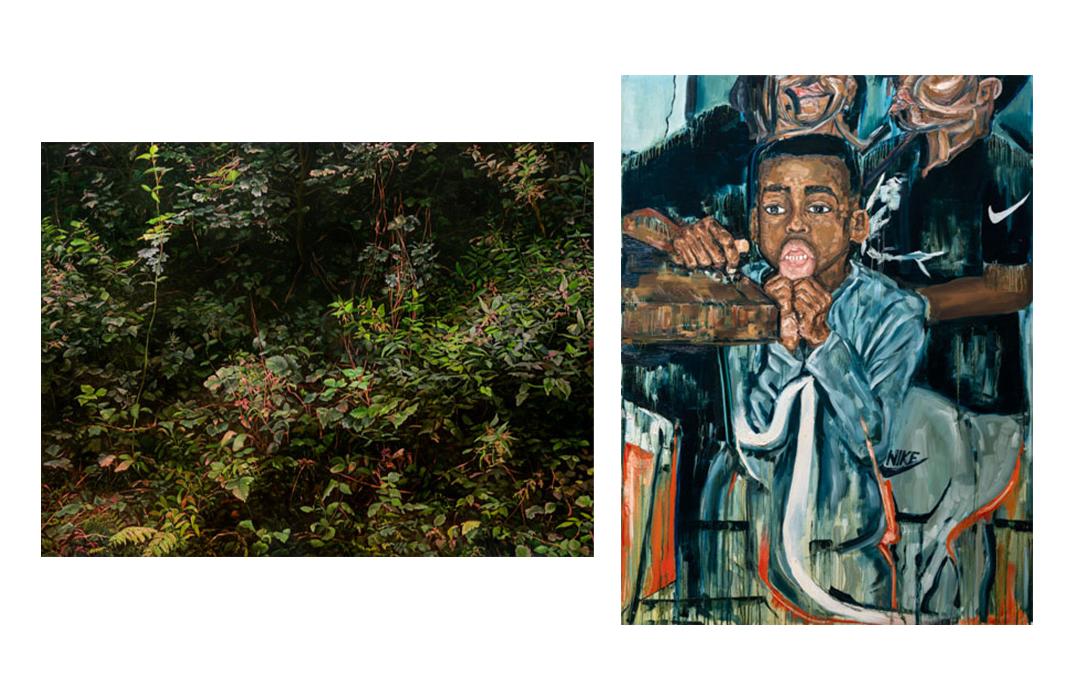 How do you two know each other? 
Hannah: I'm a tutor at Central St Martins Foundation course working in the 'Painting Pathway' and we had the pleasure of Leah being one of our students last year. It was last year, wasn't it?  
Leah: Yeah, it was but it feels like a while ago. 
Hannah: Yes, especially with everything that has happened! 
Hannah what was Leah like as a student? 
Hannah: Leah was brilliant, just an absolute delight to have in our pathway. A wonderful student and such a pleasure to meet, to get to know a bit, and to teach. It's a very large painting course isn't Leah?  
Leah: I think there were about 60 of us? 
Hannah: Yes, I think there were 64 students last year, so I didn't get to speak to Leah as much as I would have liked to, but she was great.  
Can you recognize her style from when you taught her? 
Hannah: I can, but that's probably because I know it's her work. It's different from the work she was doing on the course, Leah you weren't really painting at the time, were you? 
Leah: No, I wasn't painting at all really, I was trying to look at objects and installation spaces in a painterly way, so I didn't pick up a brush really at all, throughout the whole foundation. But it was cool, I felt like what I was exploring did have painterly techniques in terms of its formal elements, like imagery and distorting the images. You could relate it to brush marks with the fluidity of paint, it related in that way, but I never picked up a paintbrush.  
Hannah: Which is not uncommon is it? The painting course is very broad, it's expanded painting, there is no obligation to paint in the painting pathway which is what we say quite a lot on the course. But the language of painting is very much at the heart of it and that's the language I recognise in Leah's painting. The imagery that you were working with on the course is very much in your painting now, it's such a pleasure to see that it's moved in that direction.  
Leah what was Hannah like as a tutor?  
Leah: Hannah was a cool tutor, she was very calm, and she gave pretty good advice, it was always to stay true to what you wanted to do and not to get too worried about the work and the workload. I didn't get to speak to her a lot, but I remember speaking to her at the beginning for one of the paintings that I did (before the painting section of the course started) and she liked it, she liked my brushstrokes, scale and use of colour. When we began to look at painting through the digital world, she would encourage us to keep trying different methodologies just to see where we wanted to go. She would get us to experiment and see what happens and just go with it because at the end of the day it is your foundation, you should have fun with it and not take it too seriously. 
Hannah: Thank you! I'm glad you felt that I was calm; I didn't always feel calm!
Leah: Yeah, I feel like as a tutor you were really calm! It wasn't chaotic. My friends from other pathways like fashion or textiles would come into our classroom and be like 'this is so chill, it seems really cool and calm to work here, there's no pressure.' 
Hannah: That's great to hear, I don't think it really helps does it, making work under pressure? You have to be in the right place to make work. Art college is quite a busy space and it's not like you are in the studio on your own, but you need to take time to think about what you are doing and just give yourself space for things to happen.  
Hannah, you have been in the exhibition before in 2012, what does it feel like being in the exhibition again with previous experience? 
Hannah: It's wonderful, I feel like every painter wants to be in the John Moores, it's the exhibition to be in if you make paintings, so I'm very happy to be part of it. Being in it before, was a fantastic experience, it was a while ago now and like lots of people I apply to be in it every two years. It goes one way or another, you try not to think about it once the application is sent off but at the back of your mind you're hoping to get in, so I was delighted when I received the news this year. 
Leah this is your first exhibition ever! How does it feel being in the exhibition for the first time? 
Leah: I am really excited; I didn't think I would get through. I didn't realise how important the exhibition was when I actually applied, and when I heard how big it was, I thought, oooh this is not going to happen, I'm not going to get through, this is so stupid I don't know why I applied. And then it happened! It's just crazy, I can't believe it's my first actual show to be in. To have Hurvin Anderson judging as well, he really influenced my style and technique in terms of painting, because I looked at him throughout all of sixth form, so to have him judging was kind of crazy, he is one of my favourite artists so that is really exciting to be a part of.  
Hannah: It's fantastic to have that result as your first entry, really brilliant! Well done! 
Leah: I wasn't aware of how sort of unreachable it is, to be a part of the exhibition. 
Hannah: It's very well-deserved Leah, the odds are high but it's a really strong painting so well done.
Leah: Aw thank you, I didn't think I deserved it because I'm so young and I haven't got far in my life, so I felt bad. I felt like someone else who has been doing it for a long time should have taken it. But then again, I feel like that's the point of the John Moores because it's anonymous, so it's really based on the painting itself and not the person, which is cool.  
Hannah, can you tell us about Leah's work? 
Hannah: Yes, so I think it's a fantastic painting, it's really wonderful to see, especially seeing your work from last year, your digital work, I can see where it's come from. I wouldn't want to say what it's about because that's not my place, I'd love to hear you talk about it though. But from a viewer's point of view, from my point of view, I see a painting about a particular moment of time in childhood. It feels perhaps that it comes from a family photograph or a memory. The boy is exploring who he wants to be, considering his identity and realising that this could change, that he could have different personas or paths ahead of him. I've got a little girl and she's just realized that she can pull her face in different directions and contort it and she loves it. In all the pictures we take at the moment she has her tongue out or she's squashing her features so it reminds me of that point of a child's development when they start thinking about their identity and their future and maybe the figures behind are his older self or older siblings. The painting has got so many qualities, it's very serious but at the same time, there is a playfulness to it. It's great, congratulations.    
Leah: It's great that you got that from the painting because I was trying to explore the balance between playfulness and serious undertones. The scale I think highlights the fact that the painting is from a child's perspective, so at first, there is the element of play but then in the background, around the outside, there are these looming figures in the background, and they have a presence in the painting as well. I wanted that external world to have a presence in the painting, to emphasise the bubble that children are in.
Leah Cayol, Lickkle Man, 2019
Leah, can you tell us about Hannah's work? 
Leah: Obviously it's about nature and it seems kind of calming but also it seems kind of sinister in a way because of the colours in terms of the dark greens and then there's the light shining through. It seems that you have a real attachment to nature, I don't want to sound like a stalker but I looked at your painting throughout the foundation and so I am pretty familiar with your work. I get the vibe that your painting is in essence the exploration of one's comfortability with nature, but also in the background having the modern world and lifestyle waiting for you to return.  That's what I get from it.  
Hannah: That's absolutely perfect thank you, I'm glad you got that. It's absolutely about a solace or comfort found in nature. Sometimes I just want to ignore everything that's going on and spend some time in a reverie looking at leaves and the light hitting them and maybe block out other stuff, particularly at the moment. Over the last year I think it's become even more important to me to spend time in nature.   
Hannah Brown, Hedge 4, 2018
How does it feel to be in an exhibition that is so varied in terms of style, subject etc? 
Hannah: I think it's wonderful, it's a celebration of painting that's happening at the moment. The possibilities of paint are so vast that in an exhibition like this, that celebrates painting, there are bound to be many different styles and subjects explored. It's just what you would hope for, that there are so many different ways of using paint, subject matter, application, scale… it reflects what is happening in, and what is great about, contemporary painting. I'm in a room with predominantly landscape or references to nature, so it's been curated by subject, I enjoy that part of it as well, that within the exhibition themes have been found and grouped together.  
Leah: I would echo that. I think on top of that I would say from an artist's perspective it's cool to see what I could take away, to have an influence from the other artists and see what they do in terms of composition or colours and see how that would work in my work. So, I think to have different styles in the exhibition kind of helps me as well so I can see where I want to go.  
Hannah: That's a very good point. I can't wait to see it in person, I've been enjoying the virtual tour and how close you can get to some of the paintings, every time I look at it I think I've seen everything and then I find something new, there is so much to see there! 
What is it like to be in the show together? 
Leah: I was excited, I think it's really cool. I just finished my foundation so I didn't think I would see Hannah again, but being in the show I got to ask her questions about being an artist and where to go from here and doing my own exhibitions possibly. It was cool to see her painting as well, I actually didn't know she was in it at first as I was so shocked to see my name on the list and then Hannah emailed me told me we were in the exhibition together and I looked again and saw her name which was really cool. It's nice to have someone I know in it as well.  
Hannah: Absolutely the same, such fantastic news! I went through the list, and recognised names of other people I know in the show but when I saw Leah's name I was like 'I think that's Leah?! That's brilliant!' and then I messaged the other painting tutors to tell them the news, they were really excited as well. We love hearing about what our students are doing but to see Leah's name on the list was just great and obviously, I'm pleased to be in it as well. So, it's a nice moment to share, when you're in the John Moore's you're part of something and you remember the other artists who were in it also. Sometimes when you meet them in real life you say, 'we were in it that year together', it can be many years later but there's a connection from it still. 
What are your plans after the exhibition? 
Leah: My aims are to continue painting, hopefully do a little exhibition myself or get together with my friends and do one as a group. I actually didn't continue with studying art, I'm going to LSE doing Geography with Economics. But I plan to go back to art and it's in the back of my mind to do a masters and continue painting and continue doing exhibitions in my free time with my friends who are still doing art. Geography with Economics relates to what I'm interested in, boundaries, space, inclusion, exclusion, social divides and social constructs, hopefully which I can take and then implement in my art because what I'm learning will be deeper and more complex and more layered. I think painting in its concepts are layered, especially with figures in landscape, which is what I'm interested in, so to have that in the back of my mind in what I'm studying now, will hopefully bring into my paintings in the future. 
Hannah: And I am still at Central St Martins, I work one day a week so the rest of the time I have in the studio painting.