Curious dogs, venomous vipers and a truck full of samples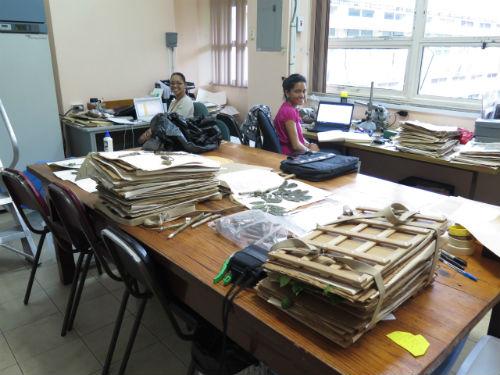 The rugged coast along the road to Matelot. Joanna Ostapkowicz, Curator of the Americas, collection continues her journey through Trinidad, here is her latest update: "
Day 2: Curious dogs, venomous vipers and a truck full of samples - a hike in North East Trinidad
This is rainy season in Trinidad: not only did we benefit from another day of overcast skies, but the heavens did open for a short time - and there is nothing like a tropical shower to cool you down after a bit of humid forest trekking.
Curious canine     Our starting point was Matelot, St David's, along the northern coast. This is a region of mostly cretaceous metamorphic geology, with rugged, mountainous coast. We were joined on the first part of our foray into the bush by the local 'wildlife' - several curious canines who wondered what we were up to. Apart from the incredible variety of birds - from vibrantly green parakeets to iridescent hummingbirds to black vultures - we didn't see too much else, perhaps a blessing given that the local fauna includes black vipers and other venomous snakes... which is one of the reasons people travel with dogs out here.  So we were thankful for the company!
A truck full of samples, left to right: Yasmin, Neicheia Falby-Peters (technical assistant, National Herbarium of Trinidad and Tobago, UWI), Harris and Jameel.       By the end of the day we had a truck full of samples, and returned to the University of West Indies campus relatively early - 6pm, having left at 7am.  Our days would continue to grow longer through the rest of the week when 12-14 hour days became the norm. While we were out collecting, the technical assistants in Yasmin's lab would be working to dry and press the material we had collected - proving a very efficient system."    
National Herbarium technical assistants Keisha Manaure and Shivani Ramsubhag processing samples back at the lab.   Read more about our Americas collection
here
.