The Danger Tree: art and augmented reality commemorate the Somme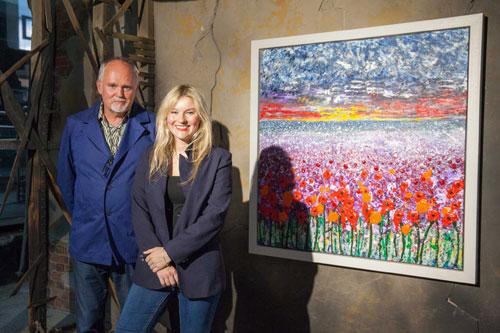 Artists Scarlett Raven and Marc Murot The Danger Tree was a petrified tree in World War One during the Battle of the Somme. It was the only original tree in No Man's Land to survive the Battle. During the fighting it was used as a landmark by both sides and its visibility meant that there were a large number of casualties near it. Artist
Scarlett Raven
tells us about The Danger Tree, an augmented reality visual art experience currently on display in the
Dr Martin Luther King Jnr Building
.  "We started the Danger Tree project a few years ago, putting paint onto the canvas, changing my mind, re-painting, changing my mind again, putting more paint on, and so on and so on, all the time recording the process from above by a camera that my art partner Marc Marot installed to record the process. It took me a while to get used to the camera but I forgot about it in the end and carried on in my paint splattered overalls. My dad had been to the site of The Danger Tree and sent me back some soil telling me to incorporate it into the paint which I thought was a great idea; some physical object that had been there when the events took place. My own visit the region was all the more poignant because of this. The process of producing the paintings has been like having a conversation with Marc, sometimes he suggests the subject and directs the Augmented Reality and I paint to that end, and other times I paint what I feel and then Marc fits his AR retrospectively. I've always wanted to produce paintings that give the viewer a full experience and this is a perfect way of doing this. Mixing oil paintings with film, sound, light, poetry and set dressing gives a full experience that accentuates the painting. Its amazing watching people as they leave the exhibition, some of them clearly moved by what they've just seen. It's a very powerful thing if you can do that with art."
---
The Danger Tree uses augmented reality to offer an interactive experience to visitors using the Blippar app, which can be downloaded onto a smartphone. Each artwork is enhanced with animation, music and poetry. The Danger Tree is on display from until 18 December at the 
Dr Martin Luther King Jnr Building
, adjacent to the Merseyside Maritime Museum in the Albert Dock.