Designs for the Conservation Centre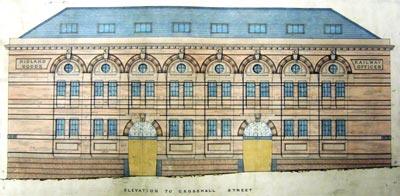 I originally came to Liverpool to study architecture at uni, back in the days before computers took over the world when we made 'proper drawings' to millimetre accuracy. I'll never forget being told on work experience that I'd never be an architect if I couldn't draw a straight line.
I never did become an architect but have never lost my fascination with architectural drawings. It was a real treat therefore to see an exhibition of drawings by the local Victorian architects Culshaw & Sumners at Liverpool's Central Library. The exhibition has been curated by architectural historian (and former Walker curator) Joseph Sharples, who researched a huge archive of 6,000 drawings by the firm.
One of the firm's city centre buildings is the Midland Goods Warehouse, which was converted in the 1990s to become the National Conservation Centre. The elevation shown here isn't in the exhibition, but you can see a section through the building showing how the architects took advantage of the slope in the land to make it easier to unload carts.
Exhibitions of this type usually focus on grand designs, whether built or unbuilt, so it's a refreshing change see the inclusion of drawings for tiny court houses in Toxteth. The drawings were submitted in 1843 but were rejected as they fell short of the legal requirements for healthy housing established in the Liverpool Building Act the previous year. Together with the other drawings, showing grand business premises and housing with carefully routed staircases to keep servants out of the way, this gives a fascinating glimpse of life in the city at the time.
The exhibition is in the Piction Reading Room at the library until 31 March 2009.