Drugs Rush at Seized!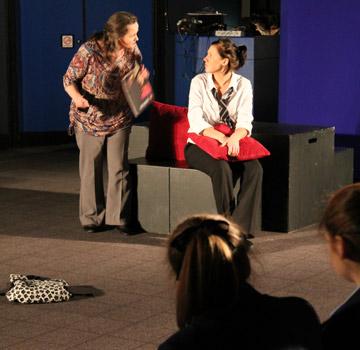 Here's an update from Joyce Parr and Sarah Han, education managers at Seized! The Border and Customs uncovered, about this year's Rush programme:
"It has been lovely to welcome schools again to our drugs awareness event, Rush which takes place each January at Seized! UK Border Force National Museum, based in the Merseyside Maritime Museum. After it finished were exhausted, but we have had a brilliant time, like the kids! Despite the snow, we welcomed more than 700 young people. The award winning Rush programme (Kids Count Award in 2010) was developed because of concerns about the impact of drugs misuse on young people.
We are lucky to work with the UK Border Force who give the museum lots of helpful back up. Students were enthralled by our play which explores choices involving drugs, and the consequences for the characters. The young people 'hotseat' the characters. Here the actors stay 'in role' and the pupils ask them questions. They offer advice too - some extremely good - to the characters! Activities follow - the 'beer goggle challenge', a look at simulated drugs, and a chance to handle objects from our collection of seized contraband. The young people then devise their own endings to the play which is when a serious subject takes a hilarious slant, as the young people have a go at acting/scriptwriting! Next the young people see the last scene of the play which is thought provoking and unexpected.
It's a full and rewarding day, with a lasting, important message but it's comments like these that keep us going:
"I now know how personal choices can change your life." "I'll probably say 'NO' to drugs more fiercely." "The children found it fun and especially loved the play."
Rush is popular, so to bring a school group next January contact us from September on 0151 478 4814. Throughout the year we also run the following awareness sessions: