Explore our Roman past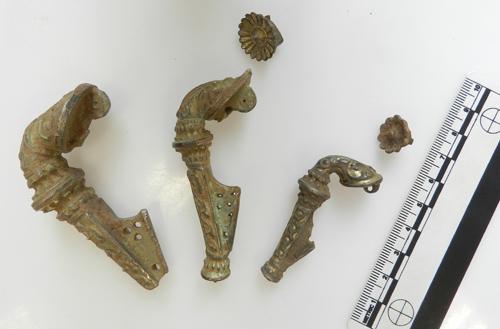 Roman denarii coins from the Malpas Hoard To coincide with our forthcoming exhibition,
Roman Treasures of Cheshire
, there's a great opportunity to explore the Roman past of north west England in detail at a forthcoming day conference.
The Cheshire Hoards and the Romano-British North West
conference will run on Saturday 27 February at the Museum of Liverpool. Archaeologists from around the country will present the latest research about finds and explore the context of settlement in this region. The
Cheshire Hoards
are two groups of Roman Treasure, the Malpas Hoard and the Knutsford Hoard.  These have both recently been reported through the Portable Antiquities Scheme and have now been acquired by Museum of Liverpool and
Congleton Museum
jointly through a grant from the
Heritage Lottery Fund.
  The
Malpas Hoard
is a group of 35 coins which were struck between 134BC and around AD50. There are seven Iron Age British coins made between AD20 and AD50. The Roman coins are early examples, struck before the conquest of Britain. It's likely that the hoard would have been buried within about ten years of the Roman invasion. The
Knutsford Hoard
consists of 103 coins, three brooches, and two finger rings all dating to the later 2nd century AD. They were found associated with Roman pottery, which might have formed part of a vessel used to hold the hoard when it was amassed and buried.
Brooches from the Knutsford Hoard Speakers from around the UK will present the two hoards and explore numismatics, Romano-British small finds and north west England through the 1st and 2nd centuries AD. The full conference programme can be downloaded from the 
conference web page
. The conference is free, and will run 10am-5pm. No booking required.