Exploring artistic process and practice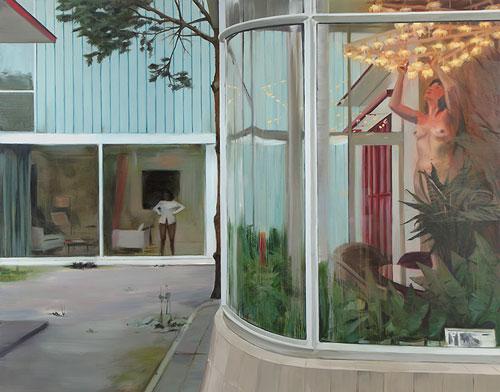 Caroline Walker with her painting 'Consulting the Oracle' (detail), 2013. © Caroline Walker. Private collection We recently spoke to artist Caroline Walker whose paintings
'Consulting the Oracle'
(2013) and
'Illuminations'
(2012) are currently on display as part of
REALITY: Modern and Contemporary British Painting.
We were interested in finding out more about the artistic practice behind Caroline's work, which we hope will inspire other artists. "I see my process almost like the construction of a theatrical or filmic idea of 'mise-en-scène' in which I bring together the elements of set, characters, props, and lighting to create the scenes I portray. This involves an extensive research process which encompasses found imagery, highly considered photo shoots with models on location, and the development of entirely fictional scenarios. Both of my works in the Reality exhibition (
'Consulting the Oracle'
2013 and
'Illuminations'
2012) are the result of a photo shoot. These follow a process that always starts with finding the right location, or set. I then plan how I might want to work there, often starting with a vague narrative or idea of the kind of characters I want to occupy it. I start acquiring props – usually strange little objects that either have a decorative or narrative purpose, or can be used in a symbolic way. At the same time I find models and get clothing and sometimes wigs for them to wear.
'Illuminations' 2012, Caroline Walker We then spend a day on location where I photograph the women engaging with the house in some way or performing different roles. I take hundreds of photos, which I then start editing in the studio. These then lead on to lots of drawings and studies for potential paintings. At some point along the way, an accurate representation of the original scenario I set up is left behind and the intention of the resulting paintings overtakes. The finished paintings are often quite far removed from the source material, as architectural space is moved around and lighting manipulated to create spaces that are imbued with an odder atmosphere. Sometimes I leave the reference material behind altogether using it more as a starting point for something entirely imagined.
My interest in painting spaces is related to the way I approach painting itself. I use various techniques and devices, playing with the relationship between the illusionism of representational painting and its materiality. Mirrors, glass, Tromp l'oeil wallpapers, paintings within paintings juxtaposed with human figures, and 'real' landscapes exist side by side, but are all 'sets' of one sort or another. I'm often referring back to these pictorial tricks of perception by trying to set up complex relationships in the paintings between what can be seen to be 'real' and what is an illusion.
Pictorial deceptions are what I enjoy most in all my favourite paintings. Whether it's Manet's
'A Bar at the Folies Bergere'
or Velazquez's
'Las Meninas',
its the combination of complex perspectival space, social commentary and human interest, captured with a paint handling which continually reminds you of it's material substance on a flat surface which for me is one of the most exciting things a painting can do and why it is still such a valuable medium for capturing the reality of the world around us."
John Moores Painting Prize
Caroline was previously selected to exhibit at the Walker Art Gallery after entering the
John Moores Painting Prize
in 2006 with her painting
'The Party Animal'
(2006). The John Moores Painting Prize is the UK's best-known painting competition which culminates in an exhibition held at the Walker Art Gallery with a first prize of £25,000. The exhibition forms a key strand of the
Liverpool Biennial
festival of contemporary art, one of the world's leading Biennials. The next Biennial will take place from 9 July to 16 October 2016
Call for entries is currently open for
t
he
John Moores Painting Prize 2016 - the closing date for entries is Monday 9 November 2015.