Family History Day, a day to remember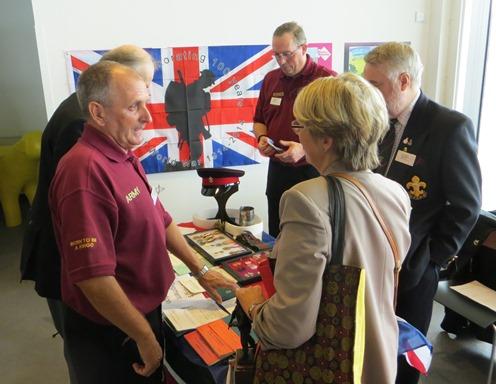 Our expert Graham travels all the way from the South West to help with Machine Gun Corps queries Last week saw the launch of the
Royal British Legion 2015 Poppy Appeal
, focusing on 'Memories of the Fallen', and it seems fitting that we at the Museum of Liverpool begin to think about our own annual event, our
First World War family history day
, which takes place at the museum on Saturday 21 November 2015. Each year we gather together a team of friends, from around the region (and often further afield). They have expert knowledge in a variety of military and genealogy subjects, and they spend the day with us, helping our visitors with their family history research. From early in the morning, there is a real bustle of excitement as our experts arrive at the museum and set out their databases, maps, documents, objects and anything else that might help our visitors with their research. Throughout the day there are activities and events taking place around the Museum, from performance, presentations or gallery tours, to craft - activities for the whole family to enjoy. The family history experts are based on the first floor, in our biggest event space. At 10.30 we open the doors of the room and the visitors pour in. I'm always kept pretty busy, but sometimes I get to stop and chat to a visitor. Some have traveled many miles in the hope of finding out about a relative who served with a North West Regiment, some have already found details on our
King's Regiment database
on the gallery and are keen to try and find out more. We always get a few who just happen to be in the Museum for a visit and wander in on the off-chance that we have some information about their relative.
The King's Regiment Association always bring along lots of wonderful objects I will always remember the lady who came in and said she wasn't sure, but she thought her great-uncles had fought in the War. They had quite unusual names, but even with very little detail we were able to find them on the database. Not only were both brothers awarded Gallantry medals for their bravery, but we were also able to show her their photographs. On seeing the pictures, she burst into tears as she knew very little about them and had never seen a photo of either of them before and was so proud! The King's Regiment database is an amazing resource for us (and one that I will talk about in greater detail in my next blog), but we also have experts in the
Machine Gun Corps
,
Cheshire
and
Lancashire
Regiments, local casualties, Liverpool Territorials and Service Battalions and so much more. Each year, I try to recruit another expert, so that we can help a wider variety of people - this year we have John Hartley from the Manchester Regiment joining us for the first time. So much First World War information is now available on-line, but I know that War Office documents can be complicated and families often still need help to understand the information they discover. It is wonderful to see so many visitors coming in to take advantage of a room brimming full of free expertise. I hope that this event continues to be a day to remember.