Fancy a swim in the Mersey? First Ladies 1 Mile Championship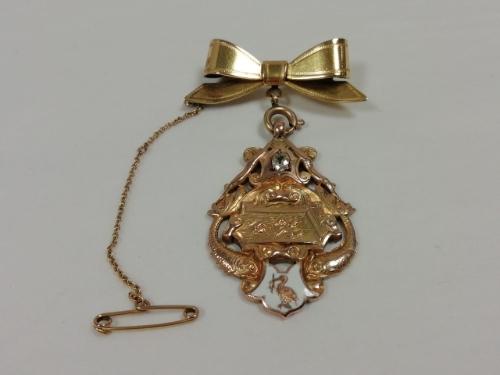 16 year old Lucy Morton won this gold brooch in the Ladies 1 Mile Mersey Championship in August 1914. She was one of eleven competitors and finished in 24 minutes, 25 seconds with a lead of 40 yards (36 metres). The race took place along the western side of the Mersey from Eastham to the Conway training ship moored near Rock Ferry.  It was billed as featuring the "pick of England's Amazonic wonders"!
Although men had been competing in an annual Mersey Mile race since the 1870s it seems the 1914 race, organised by the Liverpool Ladies Swimming Club, was the first one for women. The swimmers' achievements are all the more amazing when you consider that until relatively recently the Mersey was one of the most polluted rivers in Europe, containing toxic industrial waste and raw sewage.
Lucy Morton was born in Cheshire in 1898 but spent most of her life in Blackpool. She went on to further swimming success, establishing the world records for the 150 yards backstroke and the 200 yards breaststroke. At the 1924 Paris Olympics (the games featured in the film 'Chariots of Fire') she won Gold in the 200m breaststroke, becoming the first British woman to win Gold for an individual swimming event. In the build up to the Olympics Blackpool Council opened her local swimming pool out of hours so that she could train after finishing work as a telephone operator for the Post Office. Lucy Morton retired from competitive swimming after the Olympics but continued to work as a swimming teacher and coach in Blackpool.
We were lucky enough to purchase the brooch for the Museum's collections at auction earlier this year. It will help us tell stories relating to Liverpool's sporting history and in particular women's sports in the city (Morton also broke several other swimming records at Garston Baths). It features a liver bird at the bottom along with an image of three swimmers and a small diamond.