Felix Scott: a Victorian life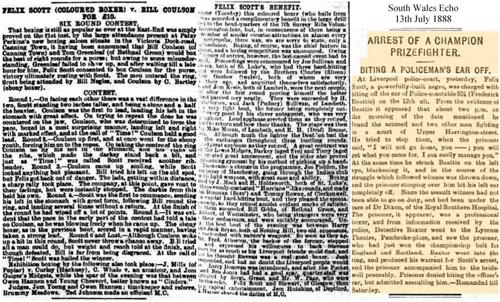 Clockwise from left: Felix Scott's Royal Navy Record of service (source: the National Archives); HMS Charybdis, 1870; HMS Tamar, c1880
Today we have a guest blog from Jamie Calladine, a volunteer researcher working with us on the Galkoff's and Secret Life of Pembroke Place project. Jamie is studying History at Liverpool John Moores University, and has applied his research about Pembroke Place to his course, uncovering a fascinating story of a man who had a brush with the law on Pembroke Place in the 1880s...
"Born in Barbados in 1856, Felix Augustus Scott would go on to be a jack of all trades: from stoker in the Royal Navy to a fairground strongman and most proficiently, a champion boxer. Born just two years after a cholera epidemic which left 20,000 Barbadians dead, Felix always seemed destined to protrude the borders of his homeland. Joining the Navy aged 20, Felix would travel the world venturing to the enigmatic East and the exotic lands of China and Hong Kong.
The Royal Navy striving to support Britain's growing authority in the region in the aftermath of the Opium Wars. Felix served on three ships: the Indus, the Tamar and the Charybdis. The Indus being a Guard Ship of the reserve down in Plymouth, while the Tamar and Charybdis were both troop ships transporting personnel between the various military stations in South East Asia. Life in the Navy was no holiday for Felix, however. Being a stoker, his job consisted of shovelling coal into the ship's great furnaces, a job which demanded an abundance of physical strength and endurance.
The atmosphere in the lower decks of the ship must also have been a struggle for Felix as other crew members – weary and weaponised by the hard labour – would no doubt have expressed some of the prejudices that existed at the time. It is likely that these situations escalated into violence as we can see from Felix's service record that he was imprisoned in Central Prison, Singapore and Victoria Gaol, Hong Kong in 1877 and 1879 respectively. At the end of his military tenure, Felix was also subject to a court martial, though on his record the reasons for such action are not stated. Felix was found guilty upon arriving in England and was held in Winchester Gaol, as shown by the 1881 census.
Clockwise from left: View up Old Bailey Street (Victoria Gaol), 1862; Victoria Gaol, 1890; Victoria Gaol illustration, 1900.
This was only the beginning of Felix's story, however, and Felix Scott's legacy would not be associated with his life in prison or in the Royal Navy. Felix's life as a boxer is what earned him a feared and respected reputation among spectators and fellow fighters up and down the country. Fighting out of Liverpool in the 1880s to 1890s until settling down with his family in Birmingham, Felix would gain the respect of his peers. Felix was referred to in some instances as "the coloured champion of England" and even won the English and Scottish championship belt in 1888, a glorious narrative which can be seen in the pages of Sporting Life, a Victorian sporting newspaper.
The newspaper even reports of a benefit for Felix Scott which was held on 17 January 1888 where "the leading men from Manchester, Liverpool, Birmingham and London" would all participate in an evening of boxing. Felix's boxing career would be interrupted in that year by a curious incident which occurred in Liverpool in the early hours of 12 June 1888. The incident, printed in local newspapers across the country, was reported as the removal of a policeman's ear, bitten off by Felix nonetheless! Felix was apprehended for the crime by the detective after his fight at the Lyceum Theatre, Pembroke Place later that evening, a fight where Felix had just won the English and Scottish 10 stone championship belt. The injuries were not stated on the official police charges and so it is difficult to gauge the truth of the reports as Felix denied biting the policeman's ear off. In spite of this, Felix was still found guilty and sentenced to eighteen months hard labour.
Left to right: "Felix Scott vs. Bill Coulson for £10", Sporting Life, 25 June 1888; "Felix Scott's Benefit", Sporting Life, 18 January 1888; "Arrest of a Champion Prizefighter", South Wales Echo, 13 July 1888
This colourful episode did not have a negative impact on Felix's boxing career however, and he would continue to fight into the early 20th century. According to a local history website, Felix also opened a boxing training school on Corporation Street, Old Sutton, St. Helens, but evidence of such a venture has as yet evaded me.
As the 19th century came to a close, Felix began to settle down and his family life gradually surpassed his life in the boxing ring. Records show that Felix married Lucy Jane Bannister in Monmouth, 1898. The newlyweds would go on to have two daughters: Nada and Lilian, born in 1899 and 1900 respectively. Felix settled down with his family in a middle-class suburb of Birmingham, no doubt made viable due to his winnings in the ring. The 1901 Census chronicles this period of Felix's life and lists Felix as a "professional pugilist" and of his own account. Felix's boxing career is practically non-existent from 1902 onwards and I have found no further evidence of fights later than this period.
The only later mention of Felix comes in an article distributed throughout local newspapers in the USA circa 1909. The article depicts a traditional Boxing Day enjoyed by the Cockney masses on Hampstead Heath and provides us with a fascinating image of Victorian leisure and culture. Here Felix is described as a fairground strongman who would take challenges from paying members of the public in the hope that they could last three rounds in the ring, picking up a quid to ease the pain of their concomitant injuries! Perhaps the feature most curious in all of this is that Felix Scott actually made it on to the pages of local newspapers across the United States, not bad going eh! Felix eventually passed away in Wigan in 1920, aged 63.'