Fighting for Gold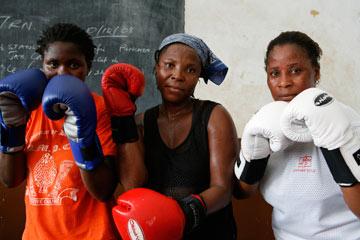 Docklands Extravaganza
(keep an eye on the blog for more news about that soon). Hot on the heels of the announcement that the new
Capoeira Club
will start in March, Vikky Evans Hubbard has news of a great free talk next week: 
---
 The International Slavery Museum, Liverpool is currently hosting an exhibition called
'42' Women of Sierra Leone
by the photographer Lee Karen Stow. Lee has been photographing and championing the women of Sierra Leone for several years, forming strong friendships with many of them. The exhibition is called 42, not only because it  is made up of 42 portraits of women, but because the average life expectancy for a woman in Sierra Leone is just 42.  During her time there Lee encountered the Sierra Leone Women's Boxing team and began not only photographing them, but a mission to get them recognised by the Sierra Leone sports council and into the 2012 Olympics. 'Fighting for Gold'  are the photographs that came out of it.  For her next project she started to document women's boxing in Hull. The  powerful photographs, 'Girls in the Ring' were the result. 'Girls in the Ring' features female boxers from across the clubs in Yorkshire, including Nicola Adams from Leeds, ranked third in the world and a London 2012 hopeful, and 82-year-old Barbara Buttrick, born in Cottingham in 1930, and who became the world's first women's professional boxing champion.  This project has been awarded the 2012 Inspire Mark. The London 2012 Inspire programme recognises innovative and exceptional projects that are directly inspired by the 2012 Olympic and Paralympic Games.
'Girls in the Ring' is a photographic look at the growing number of amateur female boxers. Lee initiated the project around the time the International Olympic Committee made the decision to lift the ban on women's boxing for the first time in the history of the Olympic Games.
The decision shows how far women's boxing has come. According to the Amateur Boxing Association of England (ABAE) the number of registered female members (including boxers, coaches and officials) in the ABAE has risen from 50 in 2005 to 868 and there are approximately 16,000 females aged 16 years and over who participate in boxing in some form.
 
Lee will be talking about both projects at International Slavery Museum on Thursday 9 February, 5.30pm. This is a free event, please ring 0151 478 4456 to reserve a place.
It's all happening at the International Slavery Museum at the mo, with an exciting weekend ahead in the