The final countdown (2)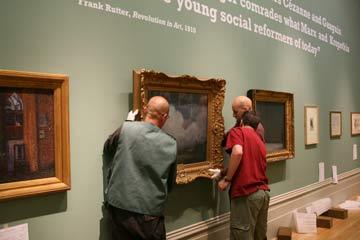 There's less than a week to go before Art in Revolution: Liverpool 1911 opens on Friday 24 June at the Walker Art Gallery, and behind the scenes people are working tirelessly to get the exhibition ready.
I popped over for a sneak peak and although it isn't finished it already looks great. Only two weeks ago it was an empty gallery but now it's filling up with beautiful paintings, drawings and even textiles.
By the time it's open to the public there will be work by van Gogh, Matisse, Gauguin and Signac on display, and I'm sure it will look incredible.
To see how the installation of the exhibition has progressed view our pictures on Flickr.