The first car made on Merseyside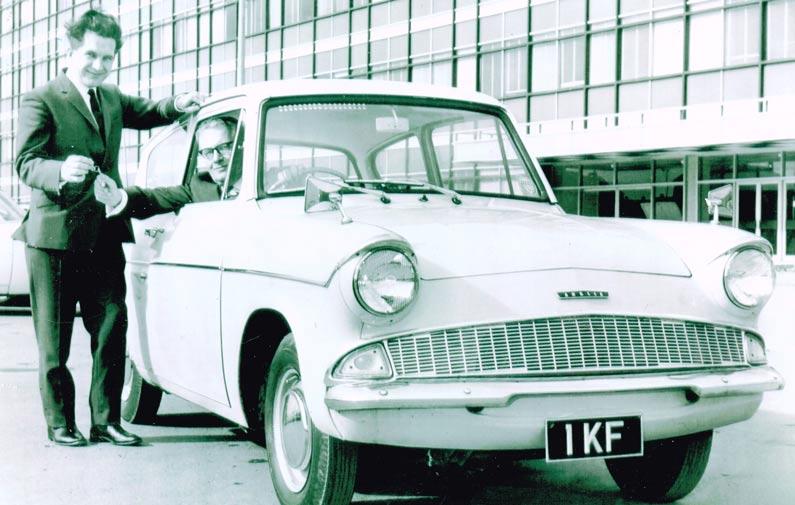 I recently received the sad news that one of the two former owners of our Ford Anglia 105e had passed away aged 90. Dermot Balfour had bought the car from the first owner who had won the car in a competition in 1963.
The Ford factory at Halewood was set up with Government funding to provide work in areas of high unemployment. The first car off the production line was Ford Anglia saloon 105e with the registration number 1KF.
The car had been put forward as a prize in the Liverpool Echo. Readers were asked to put eight features of the vehicle, including 'excellent all round visibility' and 'stylish lines always in fashion,' in the correct order. Entrants had to enclose a 3d stamp with their entries and all proceeds, eventually totalling £1,290 17s, went to the United Voluntary Organisations.
 The lucky winner of the competition was a Mr Taylor, who along with his wife and two children were very excited about the news. Mr Taylor had been learning to drive and was keen to take his test once he took ownership of the Anglia. The family planned to visit Yorkshire on holiday in the car as it was somewhere they had always wanted to go but had never had the opportunity.
The car was driven off the production line on 8 March 1963 by the Lord Mayor of Liverpool, Alderman D J Lewis, and presented to Mr Taylor.
 The next we hear of the car however is that is presented back to Fords by a Mr Balfour three years later. He had bought the car from the Taylor family shortly after their win and had clocked up to 28,000 miles. However his eye had been caught by a beautiful Cortina and Fords agreed to buy the Anglia back from him. It was then presented to Liverpool Museum for display in the proposed transport gallery, due to open in 1970.
 The car has been on almost constant display since – in Liverpool Museum (now known as World Museum), in the Museum of Liverpool Life and now in the Museum of Liverpool. We also have several other cars manufactured in Halewood and they all feature in our temporary exhibition Liverpool on Wheels. They are two Ford Escorts from 1975 and 1982, a Ford Corsair, 1964 and a pre-production Range Rover Evoque from 2011.