Five Liverpool makers you need to know
From Scouse Passports to Liver Birds, National Museums Liverpool Shops are home to some of the best gifts this side of the Mersey. Here are five of our favourite local shop owners, where their journey began and why Liverpool is the place to be for small businesses.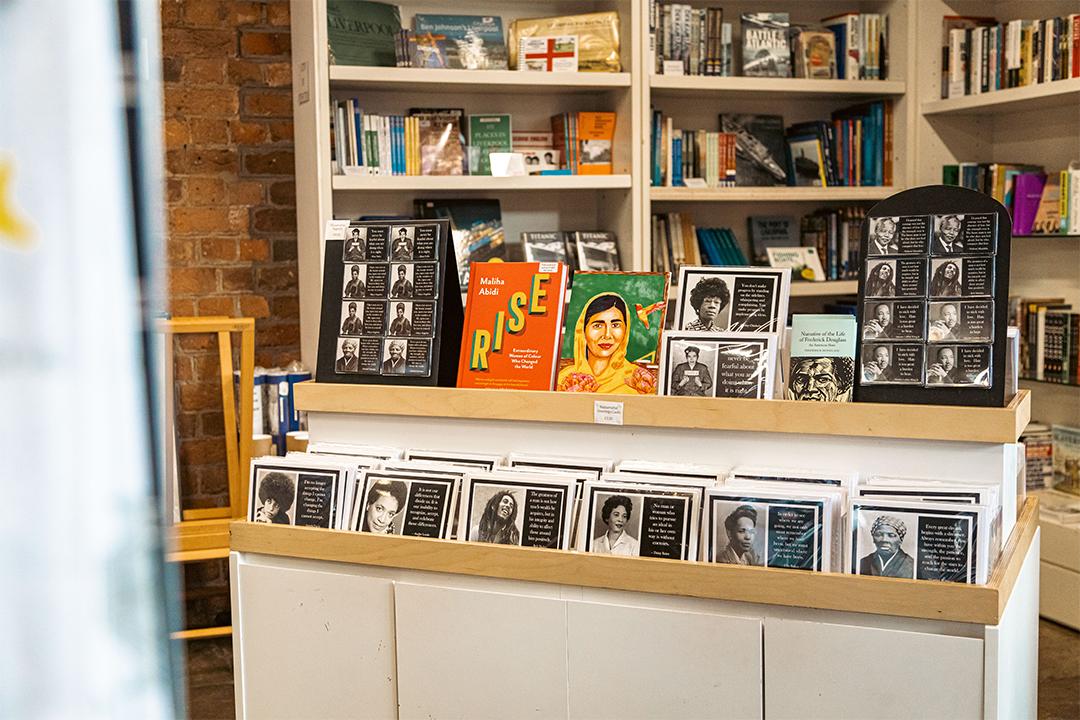 Razammataz
We're very proud to be the first to stock Angela Palmer's Razammataz cards. Featuring quotes from black icons from Nelson Mandela to Rosa Parks and Maya Angelou, these are classy and powerful gift cards, with lessons from some of the greatest thinkers of our times.  The business is now going so well, it's even taking off in America. So where did the idea come from?
"I started Razammataz because it was always hard finding black cards that celebrated my children's personality or celebrated our black history. I feel it is so important to not only educate others but to also educate ourselves. And in doing so our knowledge and inspiration becomes the inspiration for others to learn, create and inspire. 
Liverpool gave me that stepping stone to lift my ambitions higher, which in turn encouraged me to start Razammataz. Liverpool has never denied their involvement in Slavery and never tried to 'pretty it up' or make excuses, which I personally found both surprising and impressive. Acceptance is the key to growing, learning and rising. 
Liverpool loves me and I love Liverpool. It gives me the freedom to work freely, without the fear of being watered down or silenced. I could go on and on but there aren't enough hours! Liverpool's the real deal."
Tula Moon
We've stocked Tula Moon products since Museum of Liverpool first opened in 2011. Starting just a year before, Steph Dekker has since been drawing up Liverpool landmarks for prints, coasters and cards alike, bringing her creative birthplace to life with her colourful patchwork style. 
"At the time I made my first Liver Building print there weren't many contemporary representations of Liverpool out there and I realised that people might appreciate colourful modern prints of Liverpool landmarks that mean something to them. After the Capital of Culture in 2008, there seemed to be a real buzz and renewed pride for the city. I also think that people were beginning to look more at having affordable art to match their interior styles. That is how the Tula Moon range began and I am delighted that some of my original prints are still best sellers.
 
It makes me happy when my work ends up in lots of different countries. One customer bought a print in 2010 and took it with her when she moved to Australia after she married. She recently emailed to say the print connects her two children to her home, even though they're Australian. I thought that was lovely."
Kelimages
Ken Lewis of Kelimages is a Liverpool photographer who specialises in British Nature and City Landscape photography. From these he makes hugely popular canvas prints, fridge magnets, greetings cards and has launched his latest venture into homeware. It all started on his fortieth birthday thanks to his wife Eileen's gift of an SLR camera with matching lens. 
"[It] sparked an interest in photography which is still with me today. 20 years ago I took early retirement from my engineering career and started my own business. I think the overriding motivation is that I enjoy running the business side, which I created from nothing and has far exceeded my expectations. 
As far as Liverpool is concerned the Waterfront and City are amazing and lend themselves to my kind of photography. I have always loved Liverpool and its people. They are so easy to get on with, never pretentious and are down to earth good human beings."
Bluecoat Press
After founding Open Eye Gallery in 1977, Colin Wilkinson turned his attention to the launch of Bluecoat Press in 1992. It specialised in publishing Merseyside interest books with an emphasis on photography, with some books even published just for NML. In the last 30 years, it has expanded to publish over 300 books on subjects as diverse as architecture, public houses, football and labour history, as well as best-selling ghost stories by Tom Slemen. Critically, it is home to the Scouse Passport, which we've sold by the hundreds!
"One of my main aims, as a publisher, has been to bring public and private photography archives into public attention. Photographs are an essential part of community history and it is important that they are seen and appreciated. 
Since 2012, Bluecoat Press has specialised in books about social documentary photography that have gained national and international recognition. Sadly, Bluecoat Press is just a one-man business and this year, I am retiring. Hopefully, Bluecoat Press will continue to publish under new ownership - but, for me, this is the end of an interesting and rewarding career."
Rebecca Christian
Our visitors love Rebecca Christian's enamel Liverbird pins in green and rainbow, along with her greeting cards, prints and jewellery. She explains how her interpretation of these beautiful, winged creatures is no fluke, but the result of scientific study.
"After gaining a degree in scientific illustration and working in the education sector for over 20 years as a web designer and graphic designer, I decided to go back to my true passion and follow my main skill as an illustrator. 2015 was the start of becoming a self-employed artist and a realisation of how exciting it would be to develop a unique brand created from original artwork.
As a Liverpool wildlife artist, I am passionate about my city and our stunning coastline and like to illustrate the beauty and the fragility of nature in my work and business by creating products with my artwork. I hope to enthuse others both as customers and as inhabitants of our beautiful world!"