In focus: Captain Belinda Bennett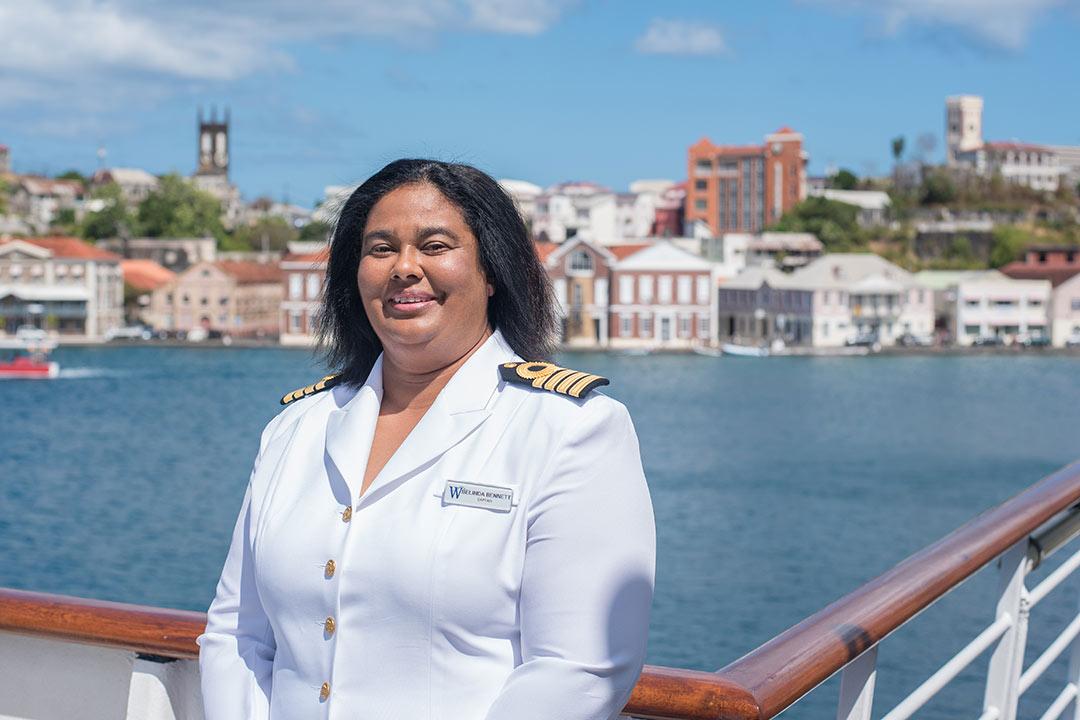 Belinda Bennett is the first woman to command a Windstar Cruises ship, and the first Black captain in the commercial cruise industry.
Born in St. Helena, Belinda Bennett was drawn to the sea from an early age. She enrolled as a deck cadet at 17, progressing rapidly through to the ranks to Third Officer. In 2003, Belinda became Chief Officer on a private yacht, and also worked for the Isle of Man Steam Packet Company. She joined Windstar Cruises as Second Officer in 2005 and was promoted to Captain in 2016.
In September 2018, she was honoured with the UK's Merchant Navy Medal for 'Meritorious Service', for services to the promotion of the maritime sector. As Captain, Belinda holds ultimate authority and responsibility for her ship and everyone on board.
Belinda's has generously donated her uniform to the collection, which you can see on display in our​​​​​ Life on Board gallery.
During the last two centuries, many women have forged careers at sea and have overcome discrimination to progress into roles they previously wouldn't have been considered for. There were women on British ships during the time of the Battle of Trafalgar in 1805, although they were not officially considered seafarers at the time.
In his book, 'Black Salt: Seafarers of African Descent on British Ship', Dr Ray Costello shares the fascinating story of an African American woman named 'William Brown', who disguised herself as a man in order to work onboard HMS Queen Charlotte. Reported in 'The Times' on 2 September 1815, she was described as 26 years old, active and strong, and she had also been successful as 'Captain of the Foretop'.
According to Costello, this story was greatly embellished, but there is documented evidence of a woman registered as William Brown, at Chatham, on 23 May 1815. She was discharged less than a month later for 'being female'.
There was also a Black Scottish sailor in her 30s listed as William Brown serving on the Queen Charlotte and 'remembered as being a Black woman'.
Images: Courtesy of Windstar Cruises and Belinda Bennett